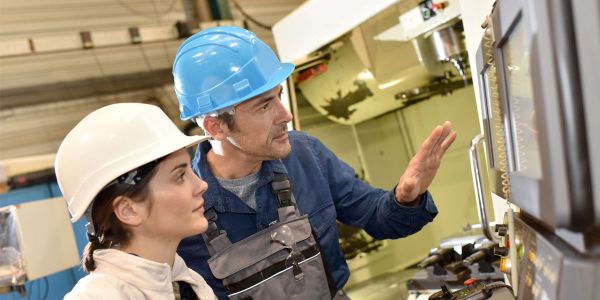 Get apprenticeship training costs fully funded through a time-limited scheme, with training available up to the value of £27,000 per apprentice. This can be for a new or existing team member.
The funding is available thanks to an exciting partnership between Buckinghamshire Skills Hub, Buckinghamshire County Council and Buckinghamshire Business First.
We are inviting expressions of interest from businesses who would like to benefit from this scheme.
As a large employer, Buckinghamshire County Council (BCC) has to pay a percentage of its payroll into the HRMC Apprenticeship Levy Scheme. These monies are set aside by HMRC and are returned to BCC in the form of apprenticeship funding for new recruits or existing employees, where the apprenticeship training satisfies the apprenticeship standards and conditions set out by the government. 
BCC can also allocate some of their unused funding to local small employers who do not pay the apprenticeship levy and cannot access HRMC funding monies directly, if they can satisfy the same apprenticeship standards and conditions.
Bucks Skills Hub, Buckinghamshire Business First and BCC are committed to supporting small businesses in Buckinghamshire to grow and develop their workforce and have joined forces to pilot a scheme where local employers can apply for apprenticeship funding from Buckinghamshire County Council. 
This means your business can access quality apprenticeship training up to the value of £27,000 per apprentice (for the most expensive apprenticeship training programmes). 
How to apply
To apply for funding, submit an expression of interest using the form here.
Bucks Skills Hub will then be in touch to discuss your needs.
Applications will be accepted until 31st March 2020.
Who is eligible for funding?
Any business operating in Buckinghamshire County Council's administrative area (Aylesbury Vale, Chiltern & South Bucks and Wycombe Districts)
Voluntary and community sector organisations in Buckinghamshire
What can be paid for with the funding?
Apprenticeship training and assessment only (funding cannot be used to pay wages or for non-apprenticeship training).
The training must be an apprenticeship 'standard'. Old-style apprenticeship 'frameworks' are not eligible. We can advise you on this or you can check which standards are available on the government website.
Apprentices can be new recruits or existing members of staff, but they have to be employed by the business.
Who to contact for further information
For more information on this funding, contact Paddy Patterson, Apprenticeships Manager at Bucks Skills Hub, on 01494 418414 or at paddy.patterson@bucksskillshub.org.