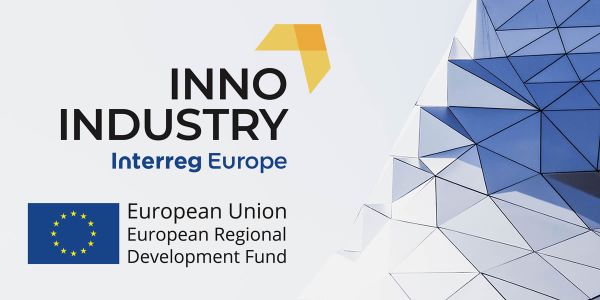 Inno Industry is a project which seeks to better understand if and how current regional and national strategies are helping businesses to become more digitalised in order to prepare them for the fourth industrial revolution, also known as Industry 4.0.
The project
Inno Industry is a partnership between 10 EU countries - Slovenia (Lead), Latvia, Austria, Spain, Portugal, Sweden, Slovakia, Hungary, Romania, and the United Kingdom, which is represented by Buckinghamshire Business First.
The key aim of the project is to increase the number of business clusters that are supporting the change to Industry 4.0, and to create a blueprint of best practice to support businesses in clusters to take up new digital technologies, such as Big Data and Artificial Intelligence.
The project partners aim to improve local, regional, and national policies in order to increase the rate of clusters that develop activities to support digital transformation.
Inno Industry is funded by Interreg Europe, a programme funded by the European Regional Development Fund (ERDF).
What is Industry 4.0?
Industry 4.0 is a name given to the current trend of automation and data exchange in manufacturing technologies. It includes cyber-physical systems, the Internet of things, cloud computing and cognitive computing.
What are business clusters?
Inno Industry partners define business clusters as:
'A concentration of interconnected businesses in a particular field, who collaborate together with a wide-range of other institutions in order to network, grow and bring in skilled workers to their organisations. This can be done in a number of ways, from co-locating through to creating industry-wide working groups; with the most effective clusters including representatives from local authorities, research centres, universities and professional associations.'
Learn more about Inno Industry
For more information about the Inno Industry project, contact Heather Dean, Head of Skills and Business Support at Buckinghamshire Business First, at heather@bbf.uk.com.
Learn more about Inno Industry on the Interreg Europe website.
List of Inno Industry partners
Regional Development Agency Posavje (RDA Posavje) (Slovenia)
ecoplus.The Business Agency of Lower Austria (Austria)
West-Pannon Regional and Economic Development Public Nonprofit Ltd. (Hungary)
Ministry of Economics of the Republic of Latvia (Latvia)
Business and innovation Centre of Beira Interior (Portugal)
Romanian Cluster Association - CLUSTERO (Romania)
Slovak Business Agency (Slovakia)
Innovative business association of furniture manufacturers and related in the Murcia Region - AMUEBLA (Spain)
RISE Research Institutes of Sweden AB (Sweden)
Buckinghamshire Business First (UK)