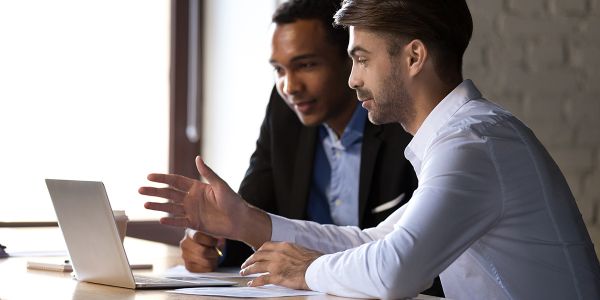 Do you need to address skills gaps within your business to ensure you have a strong, diverse, future-proofed workforce?
Our Skills for Business programme offers:
Free 1-2-1 training and development review with one of our experts
Free training and development plan tailored to the needs of your business
Free signposting/brokerage to suitable local training provision
By working with the Skills for Business team, you will have access to free one-to-one, impartial support from a Business Partnership Adviser who will:
Help you to identify skills gaps within your business and provide bespoke solutions.
Create partnerships between your business and education providers so you can access talented graduates with relevant qualifications.
Explore how your business could offer internships and industrial placements to help strengthen your talent pipeline.
The benefits of engaging with schools and colleges
Collaborating with education providers is good for business for several reasons. By engaging with education, you can:
Take on an enthusiastic individual to bring energy and new ideas to your business.
Make use of flexible working arrangements, such as short-term placements or for one-off projects.
Shape your future workforce and improve staff retention by working with individuals at the start of their careers.
Raise awareness of your industry and what skills are needed to succeed.
What expertise does the Skills for Business team offer?
Our Skills for Business team is made up of highly experienced training and development professionals who are there to help Buckinghamshire businesses with all of their skills needs. We provide expertise in:
Apprenticeships, traineeships and work placements – including advice on the Kickstart scheme (support also includes workshops that demystify the process of taking on and funding an apprentice)
Training and development for your team (including workshops on how to create a training and development strategy)
Recruitment
Inclusive employment – i.e. ensuring compliance with employment law re: diversity and inclusion
Engaging with schools and colleges
Get in touch
Complete the below form and a member of the Skills for Business team will be in touch.
By submitting this form you are agreeing to your data being shared with the Buckinghamshire Business First Group, and to being contacted by the Skills for Business team. You are also agreeing to receive email communications from the Buckinghamshire Business First Group, although you may unsubscribe at any time. For full details of how we process your data, please read our Privacy Policy here.
---