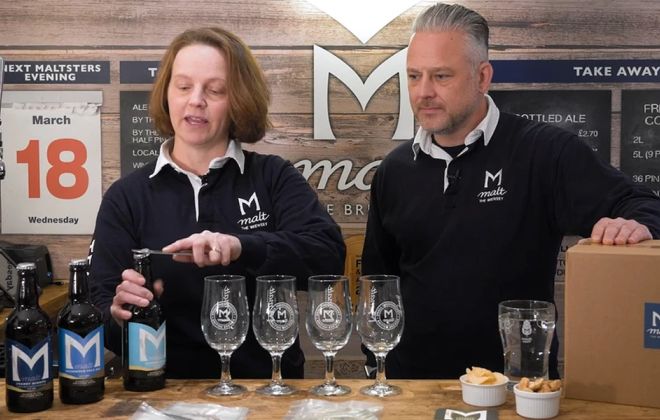 Malt The Brewery is a micro-brewery, shop and tasting bar established in 2012. In recent years, the business has diversified and grown its customer base both locally and online and saw plenty of footfall pre-pandemic. The family-owned company is run by a close-knit team with a shared passion for local food and drink, led by Founders Nick and Jenny Watson.
During the first lockdown, Malt stopped running their popular brewery tours, unable to safely run them without creating a possible contamination risk and jeopardising the safety of staff. The tours are one of their most profitable revenue streams, catering for individuals and corporate team building days and being a popular Christmas gift.
The company came up with a number of innovative solutions to continue to operate in a COVID-secure way. In the summer, they converted a horse trailer into an outdoor bar to allow customers to safely come to the site. They also offer a remote click and collect service where the product is only handled once at the order stage, and customers then scan a QR code to pick up their order from lockers outside the brewery.
When Buckinghamshire Business First (BBF) contacted the team to let them know about the Restart Grants available, Nick had the perfect project in mind. After a successful application for the Tourism and Hospitality Restart grant via BBF, they used the funds to create a new product - the Virtual Brewery Tour in a Box. Malt engaged another local company, Milestone Creative, to design a video and leaflets to accompany it.
"The team at BBF are always very proactive in letting us know about available support," Jenny explained. "The process to apply for funding was smooth and we had a prompt response which enabled us to continue to focus on the day-to-day running of our business and still maximise the opportunity."
The Tour in a Box is a sampling box which includes raw materials such as Hops and Malts, along with samples of beer, snacks and a guided online video tour complete with quiz questions. It was launched in time for Christmas and enabled Malt to diversify its product range without the need to put the core business of brewing, staff or customers at risk.
"In the past, our tours have been a nice way for companies to bring staff together and network in an informal setting," said Jenny. "With many employees still working at home, the virtual tour is a fun informal activity to help team members stay connected in a COVID-safe way."
Sales have been strong and word has spread online to potential new customers. One virtual visitor described the tour as "just like being in the brewery", which was the exact goal of the project.
With ambitious growth plans for the future already, the Restart grant enabled Malt The Brewery to continue the expansion during the pandemic with a new revenue stream that will help safeguard existing jobs and support growth in the coming years.