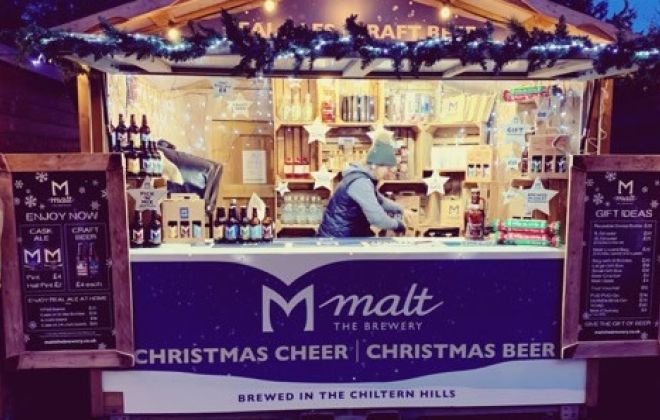 Malt the Brewery is a micro brewery producing traditional ales and contemporary craft beers, based in Prestwood, Great Missenden. As well as operating a British-made 10-brewer-barrel (10BBL) brewery, they run a popular tasting bar and shop from their base in Collings Hanger farm.
A Growth Grant from Buckinghamshire Business First was used to help fund their attendance at a range of customer-facing events which boosted sales, raised their profile and played a vital role in their subsequent success.
A business at the heart of the community
Malt the Brewery launched in 2012, capitalising on the growing interest in quality artisan ales and the trend towards local provenance in food and drink. "Our customers are discerning foodies who look for high quality. They want to know where things are made, how they're made, what ingredients we use. They're looking for something that feels real," says co-owner Jenny Watson.
As a microbrewery, Malt's customer base is centred around Prestwood and the surrounding villages. "Our Missenden Pale Ale really taps into that locality. Local pubs, like the Polecat, which is just 888 steps away, sell a lot of it and the idea that it's local really goes down well."
Local support, coupled with their own tasting bar and shop where the public can try out the full product range in a welcoming environment, put Malt at the heart of their community. But how does a small but growing business reach beyond? "Traditionally, we've relied on word of mouth, which works really well, but obviously that's quite slow."
Exceeding sales targets by 10%
A £1,000 Growth Grant helped them find the answer. One way of reaching out to like-minded consumers is to sell at farmers' markets. In 2018, Malt had their eyes on the Waddesdon Manor Chilli Fest and their five-week Christmas Fair, where they'd had some past success. "It's quite a leap of faith is the Christmas Fair because it costs a lot of money to attend. In the past, we could only afford two weeks. The Growth Grant, from Buckinghamshire Business First, enabled us to be there for the full five weeks, extending the promotional period. Right place, right people, right amount of time."
It paid off handsomely. Malt exceeded their ambitious sales target by 10%, and in 2019 many more customers have been coming through the brewery's door. "It worked really well. We get lots of people coming in saying, 'oh I saw you at Waddesdon' or 'I met a very nice chap at Waddesdon and he said I should come and see the brewery'. It gave us great visibility."
More staff and a big customer investment as a result of success
What started out as a community-focused business is increasingly becoming part of the Buckinghamshire tourism offer, as word spreads.
Their success at Waddesdon had a big impact on the business. It validated their belief in events as an important part of the marketing mix and led to a bigger push in 2019. As sales have grown, so has their workforce, which they expect to double over the next year. What's more, off the back of it, they attracted £225,000 of new investment from the Maltsters, their brewery club members, which will have a transformative impact – more staff, bigger offices, efficiency improvements to the production process.
"The success we had in 2018 gave us the confidence to go out to our core customer base and say 'look, we want to grow. Do you want to get involved?' And our results gave them the confidence to say 'yes'."
How can the Growth Programme help your business?
The Buckinghamshire Business First Growth Programme helps SMEs access expert advice, business support and grants in order to accelerate growth.
For more information, visit our Growth Programme homepage.