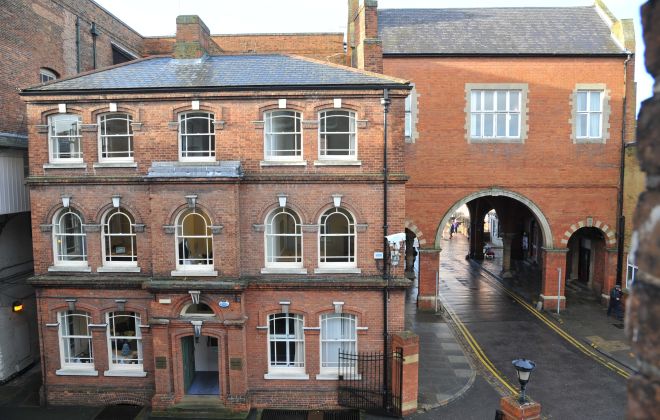 Set right in the heart of the town centre, the Aylesbury Hub at Porters Lodge is in the perfect location for meetings, hot desking and catching up. Buckinghamshire Business First members can even lease out office space for a more permanent business home.
Book a meeting room
No need to drop in or call. You can book your meeting room online now.
All members get 4 free hours of meeting room space per year. Members who co-invest get up to 40 hours free. Any member can book additional meeting room time for £10 per hour.
Judges Meeting Room with rectangle desk, 6 chairs and free Wi-Fi
Facilities
Hot desk area for 4 people with power sources and free Wi-Fi
Judges meeting room, seats 6
Water machine
Coffee machine with an honesty box
Range of offices available to lease
Please be aware that the only way to access the meeting room is via stairs
Take a Tour
Office space
The Aylesbury Business Hub houses a number of offices available for businesses to lease. They vary in size and cost, ranging from £305 to £520 plus VAT per month. For more information, contact Hub@bbf.uk.com or call 01494 927130.
Opening hours
9:00 – 17:00 weekdays (excluding public holidays)
Please note the Hub and Meeting Room will close promptly at 5.00pm
For fire safety procedure please ensure you sign in yourself and any guests upon arrival and sign out upon departure
Address and contact details
The Business Hub, Porters Lodge, at Rear of Old County Hall, off Exchange Street Car Park, Aylesbury, Bucks
SatNav Postcode: HP20 1UR
Telephone: 01494 927130
Email: hub@bbf.uk.com
Useful information
The Business Hub at Porters Lodge is run by Buckinghamshire Business First in partnership with Thames Valley Chamber of Commerce.
Porters Lodge is a characterful historic building and as such is not easily accessible for people with mobility challenges. If you are looking for a place to meet or do business, and have mobility requirements please contact the team at Buckinghamshire Business First who will be able to advise on alternative local provision.
Parking:
The closest car parks to Porters Lodge are Exchange Street Car Park and Waterside North Car Park. See costs and directions Exchange Street and Waterside North.
Walton Street Car Park is a short walk away, see costs and directions here: http://www.aylesburyvaledc.gov.uk/walton-street
---