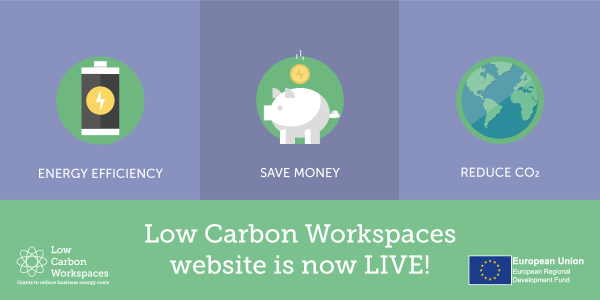 The grant scheme is back to deliver up to £5,000 to help businesses implement energy efficiency measures. Don't miss out!
Low Carbon Workspaces has a great track record of helping businesses to save on their energy bills and cut their CO2 emissions.
Grants of up to £5,000 are now available to help businesses implement energy efficiency measures like insulation, double glazing, LED lighting, new boilers and more.
Read success stories from previous Low Carbon Workspaces grants >
Find out more and get in touch with the team to find out whether you are eligible for a Low Carbon Workspaces grant >
EU Green Week
It's a great time to be thinking of saving energy, with EU Green Week taking place soon (May 29th-June 2nd).
The theme of EU Green Week is 'Green jobs for a greener future' and the focus will be on how EU environmental policies are creating green jobs and contributing to economic, sustainable and socially responsible growth in the EU. It will also highlight the demand for new types of green skills in many professional sectors. People around Europe will be discussing how a move to sustainable business models creates green jobs and a demand for green skills.
Are you organising an event on this theme in May or June?
Register your event on the EU Green Week website >
Join the debate
Join the conversation on social media around #EUGreenWeek and follow on Twitter and Facebook.
ClimateLaunchpad competition
The ClimateLaunchpad competition is open to innovations in renewable energy, a sustainable transition in the food chain, a mind shift in urban mobility or any other way that tackles climate change.
The competition is open to anyone who:
has not yet started a business or only started it less than one year ago;
has no substantial revenue;
has attracted no more than €200,000 in investment;
has not yet sold their big idea as a product/service
To enter the competition you submit an idea or innovation that can make environmental impact. ClimateLaunchpad will help you fast track that idea into a business and support you along the way.
There are regional competitions across the country. The deadline for applications for the non-London competitions is May 14th. The deadline for applications for the London competition is June 5th.
For more information, visit the Climate Launchpad competition website.