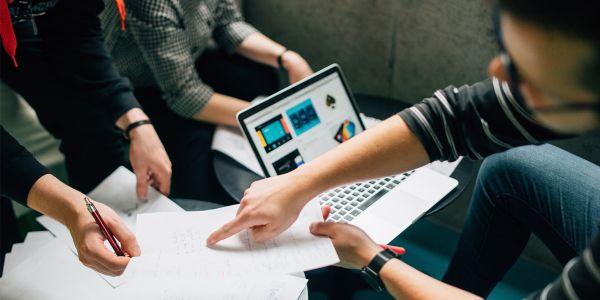 £150 vouchers are available to help you improve things like sales, marketing, IT and leadership skills within your business.
Buckinghamshire Skills Brokerage has been developed to up-skill employees within small and medium-sized businesses in Buckinghamshire. The programme offers a bespoke solution for businesses comprising:
The Virtual Adviser® - an online business diagnostic tool developed by Buckinghamshire Business First to identify skills gaps
The support of Adviza's specialist Skills Advisers to help find suitable training and development opportunities
A voucher for £150 to contribute towards the cost of workplace training for businesses to develop new skills or up-skill existing employees
So successful we've made more money available
By the end of 2017, more than 700 businesses had completed the free diagnostic to identify the specific areas of need and with the support of Adviza's Skills Advisers have discovered the most appropriate training to take.
The project has been so successful that we've made more vouchers available to Buckinghamshire businesses. These are available for a limited time only, so don't put it off until later in the year – get yours now!
Get in touch for more information
Contact our business support team to get started on your journey to a £150 training voucher. Call 01494 927130 or email BusinessSupport@bbf.uk.com.
Local success stories
Simply Alpa
Following a discussion with a Skills Adviser, Alpa Boll of Simply Alpa identified a number of areas of her business she felt would benefit from training. These ranged from accounts and finance to general business administration. Bespoke business coaching appealed to Alpa and her skills adviser was able to arrange a one-to-one session at a location and time that suited her.
The training is seen as a good return on investment and has enabled Alpa to prioritise areas to work on in the future. Training has enabled Alpa to see how her hobby has grown into a business, and how she can now focus on business growth.
Purple Consulting
Purple Consulting wanted to increase the confidence of two staff members when communicating with others within the business, as well as with customers and other stakeholders of the business. They attended a 'Presentation & Confidence Building' workshop and are now much more confident in the way they communicate within the office, on the phone and in customer meetings. Their customer relationships have improved in addition to the way in which they deliver customer service.
My Specialist GP
My Specialist GP had approached the Buckinghamshire Skills Brokerage with a view to up-skilling computer skills. Bespoke training was suggested by a Skills Adviser, and the belief is that the new skills gained have increased productivity, which will help with the development of business growth.
Neil Symington Personal Trainer
After a discussion to identify training needs, it was determined that website platform training would be a good step forward for business owner Neil Symington. The training led to an increase in productivity due to utilising new knowledge on the website, creating the potential for more business growth.
Venita Dixon
Following completion of the Virtual Adviser®, Venita Dixon had a conversation with a Skills Adviser about her child-minding business. Venita had been interested in enhancing her IT skills for some time but the courses available locally were time and financially prohibitive.
Venita's Skills Adviser was able to broker bespoke one-to-one training sessions at her home and at a time convenient to her, within the budget of the £150 training voucher.
Who is eligible?
All Buckinghamshire businesses with fewer than 250 employees are eligible, and it's still as easy as ever to apply. Call 01494 927130 or email BusinessSupport@bbf.uk.com for more details.
Buckinghamshire Skills Brokerage is delivered by Adviza in partnership with Buckinghamshire Business First and co-funded by the European Social Fund (ESF) and the Education and Skills Funding Agency (ESFA).