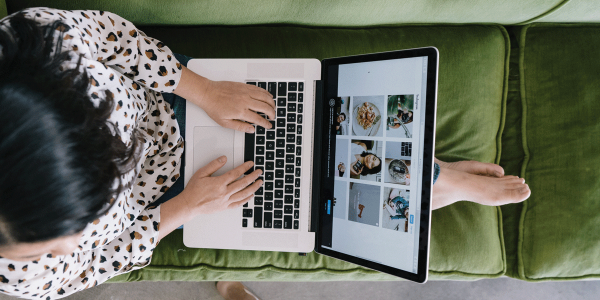 With the COVID-19 pandemic requiring people to work from home where possible, you will doubtless be wondering how to make this work for your business and staff. We have compiled resources, top tips, advice from business owners who regularly work from home, and funding opportunities to help purchase remote-working equipment.
How to make homeworking work for your business
The current government advice is for people to work from home where possible. Read government advice on which businesses must remain closed and which can stay open.
We know that not every business will be able to operate from home (either fully or partially), but there are tools and resources available to support those which can.
Some of the below advice will be relevant to both business owners and employees, or one or the other, but read on for advice:
For business owners to ensure their business is set-up for homeworking
For people working from home, including hints and tips on how to ensure you are productive, whilst also maintaining your health and wellbeing
Business owners – is your business set-up for homeworking?
Business owners/managers and staff should work together to understand the capabilities and limitations of individuals working from home.
It's good for owners/managers to know of any potential hindrances that people may face, including:
Slow broadband
Children or other dependants in their home
Phone availability and costs
Access, if necessary, to an external work server and certain software or documents on work servers
You could be eligible for grant funding to support homeworking software
If you don't have the technological solutions in place to support homeworking, Buckinghamshire Business First Growth Grants could help you purchase them.
Growth Grants up to £5,000 from Buckinghamshire Business First can be used to help fund:
IT solutions or software to enable key staff to work remotely
Website upgrades to handle e-transactions and improve customer experience
Marketing campaigns to boost sales resilience
Grants are match-funded, with a minimum project spend of £3,000 excl. VAT. Eligible businesses must have 2 or more employees or a turnover of over £100,000. The project needs to boost sales, profitability or productivity, or streamline business processes.
If you meet this criteria, contact our Growth Team on 01494 927139 or email Growth@bbf.uk.com.
Tools to help you stay in touch with your team
Web conferencing has now reached a high level of sophistication. It's possible to meet online, give presentations, share screens, collaboratively edit documents, demonstrate products and conduct training.
Microsoft Teams is a collaboration tool and team chat application allowing users to chat, present, video conference and share files. Teams can access, share and edit Microsoft Word, PowerPoint & Excel documents in real time. Other features include meeting recordings and screen-sharing, useful for training. It can be used on computers and as a mobile app. It is part of a Microsoft 365 subscription software package but may be downloaded for free as a standalone application.
Alternative video conferencing software such as Zoom, Skype for Business, and Cisco WebEx offer comparable features such as screen-sharing, recording, virtual whiteboards, calendar integration and team-chat. Some platforms can be used to produce and stream webcasts whenever the content needs to be rebroadcast (for example, as part of employee induction and training).
Take a staff survey on homeworking readiness
Sylo Associates have produced a checklist for employers to use to learn about their staff's capabilities or limitations when working from home. Download this worksheet (Excel document) here >
Sylo Associates recommend that the questions and responses be adapted to fit your organisation's usual internal surveying method or system, to best capture and process responses.
Ensure health and safety standards are still met
The Health and Safety Executive states that "as an employer, you have the same health and safety responsibilities for home workers as for any other workers."
Visit the HSE homepage on protecting homeworkers.
The HSE has also compiled a document to guide businesses on matter of health and safety with regards to homeworkers. Read this guidance here.
How to handle conference calls/team meetings
With staff spread out across towns, cities and counties, team meetings become even more important. But this brings challenges of its own.
We at Buckinghamshire Business First use Microsoft Teams (other software is available) and are holding daily team meetings across all of our departments to catch-up on the latest work requirements and to ensure that everyone is aware of what others are doing and that they themselves are okay with their work loads.
This type of contact will not be a major departure for many employers who often do this, but the lack of face-to-face contact and not being in the same room as colleagues could introduce an unwanted barrier to teamwork and productivity.
On a social level, seeing faces (if you want to switch your camera on!) can also help mitigate the effects of social distancing and self-isolation.
As for the practicalities of how meetings are conducted with multiple people all working remotely – ensure one person acts as a conductor of the meeting to help avoid multiple people talking at once.
Understand that things may not run as smoothly as normal
It's an understatement to say that the day-to-day operations of millions of businesses has already been affected and will continue to be affected in a huge way.
Managers/owners need to understand and appreciate this and, while you don't want to allow standards and expectations to plummet, you will need to appreciate that adaptation take time. And there will be a lot of adaptation at this time.
Apps to enable homeworking
Here is a list of apps and products that can be used to help teams work remotely.
Cyber security
The government has updated its advice and guidance on keeping yourself and your business protected from fraud and cyber crime. Read this guidance here.
The Thames Valley Police Cyber Protect Team has passed on the below guidance, sent through by the National Cyber Security Centre (NCSC) is respect of employees working from home during the COVID-19 crisis. In response to questions on cyber security implications of increased homeworking, an NCSC spokesperson said:
"With the anticipated increase in homeworking as the government moves into the 'delay' phase of its coronavirus response, we would encourage businesses and individuals to familiarise themselves with the NCSC's online cyber security guidance. This guidance covers everything from strong passwords to the type of security software to use, and applies to devices including laptops, mobiles and tablets for home and mobile working."
The NCSC has published a range of advice and guidance for businesses:
And for individuals:
Further NCSC guidance
The National Cyber Security Centre has published advice on how to manage cyber security. There is advice for:
We hope this helps, but your own ICT remote working policy / process should take precedence, as the above is seen as guidance.
Ensuring IT systems best enable homeworking
Turncloud Ltd have written a blog about how to ensure your IT system can best enable homeworking. You can read the blog here.
Employees – how to ensure you can do your job from home
This advice applies not just to employees of a business, but to owners, managers and anyone else working from home.
Technology
How is your home broadband set-up to ensure extra capacity if working from home? If you're in a household where several people will be using the broadband more than usual at once, and you think this could be a problem, let your employer know so that they understand any limitations.
Stay in regular contact with your employer
Keeping in regular contact is vital from both a work and social perspective.
Whether you are unsure of what work you are supposed to be doing, need clarity on an issue, or simply need a little general reassurance, a lack of contact with managers could leave you with a feeling of isolation.
Phone calls, emails, conference calls and even texts can all prove vital at a time like this.
Remember to look after yourself
Keep to a routine that matches as much as possible your usual routine, and take care of yourself in the same way you should already be in the workplace.
Eat when you need to eat. Take breaks when you need to take breaks. Keep your intake of fluids up and step into the garden or outside your front door for some fresh air if that option is available to you.
Perhaps start planning your breaks more officially than you might usually do. Set alarms to remind yourself to take breaks if necessary.
Remember to look after your mental health and wellbeing
With everything that's going on, good mental health is vital.
The mental health charity Mind has a comprehensive list of support and advice for people at this time.
This information is for everyone. Please do read it if you can.
Ensure you do actually do work from home
It can be hard for those not used to homeworking to suddenly see their home as a place where they now need to do their job. But that is now the reality for millions of people, and this reality could last a while.
That means that if you can do your job from home, either completely or mostly, then that is what you should so.
As long as you look after yourself and stay in regular contact with your team, your work output can stay high.
Minimise distractions where possible
Whether it's kids, pets, the TV, the fridge, the washing you forgot to do last night, the hoovering you've put off for days, or any number of distractions and temptations that may crop up while being at home, try to minimise and avoid them as much as possible.
Keep working hours for work as much as possible.
Separate your work space from your leisure space
You may find that it's better to work in a separate room to where you spend the majority of your downtime when you're at home. This may not be possible depending on your home set-up, and if others are staying in the home too, but creating a psychological distance between your work and the rest of your life is very important at the best of times, let alone when you may be working from home and staying at home for weeks or months.
Following a similar routine to the one you would follow if you were going into your place of work is a good idea to help you stay in 'work mode'. It can also help you get out of 'work mode' at the same time you normally would.
When working from home, there can often be the temptation to start work earlier and finish later because you don't need head off for your commute to or from work. But try to stick to your normal working hours.
Getting out of pyjamas and into something slightly smarter is often suggested as a good idea – but see what works for you.
Energy use when homeworking
If you are concerned about your energy bills at a time when you may be at home a lot more than usual, read the latest government measures that have been agreed with the energy industry.
According to the government: "New emergency measures with the energy industry have been agreed by the government to protect the domestic energy supply of those most in need during the disruption caused by COVID-19.
"From today (March 19th 2020), customers with pre-payment meters who may not be able to add credit can speak to their supplier about options to keep them supplied. This will benefit over 4 million customers.
"More broadly, any energy customer in financial distress will also be supported by their supplier, which could include debt repayments and bill payments being reassessed, reduced or paused where necessary, while disconnection of credit meters will be completely suspended."
Top tips from a homeworker
Dr. Matthew Powell of Prenwell Consulting has been a homeworker for a year and was happy share his top three tips for making it work.
Try to go to your new 'office' in a quiet, secluded area of the house, having got yourself dressed and at a reasonable time, keeping to sensible work hours. To avoid disrupting the rest of the family who are now sharing your work premises, your new office might well be your bedroom.
For your sanity, remember to actually talk to someone. If you have family with you, then great. If not, make use of the phone or the multitude of communication options on your computer. That does not mean simply typing to people.
For your general wellbeing and waistline, sit less and get out more, although this might just be to your garden for a while. The temptation of food in your fridge and cupboard should not be too great an issue, especially if you have a fortnight before you can next shop.
Contact our Business Support Team with any concerns at this time
Now more than ever, reach out to Buckinghamshire Business First for support.
Call 01494 927130 or email BusinessSupport@bbf.uk.com.
Please also fill out our quick survey to let us know how your business is affected by COVID-19.
These are unprecedented times for our business community, but Buckinghamshire Business First is here to help.
Please stay in touch and engage with the team and the membership.
Offer support or take up offers of support from others via our dedicated Offers page.
Together, we can pull through this crisis.