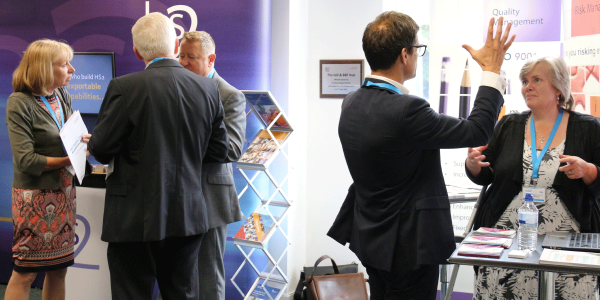 Find out how to qualify and bid for HS2 contracts; learn what types of work are being contracted out; and read a local success story.
HS2 contracts are not just for large companies
HS2 is being delivered in Buckinghamshire and the wider South East by two separate companies; Eiffage Kier and Align. The project affords a number of opportunities and it is important that Buckinghamshire businesses give themselves a chance to benefit from them.
You may have read over the last year or two that individual contracts worth billions of pounds have been handed out to build the HS2 line.
What you may not have read about was the £20,000 contract awarded to a production agency, the £15,000 contract awarded for consultancy work, the £16,000 awarded to a professional services firm related to train timetabling, or the £16,000 awarded to a firm related to data capture.
These types of contracts don't make the headlines or fill the comments sections of news articles, but they are vital to those small businesses that can take advantage of supply chain opportunities created by the larger contracts.
With 553km of new track, 73km of tunnelling, 192km of cuttings, and 60km of viaducts required as part of the overall HS2 project, there is plenty of work available. Contracts connected to demolitions, ecology, utilities, drainage, archaeology, site clearance, rights of way, ground remediation and more are available.
How can your business become eligible for HS2 contracts?
Businesses need to register for free with the CompeteFor online portal. This portal acts as a brokerage service, matching buyers and sellers.
All contracts (large, small and very small) related to HS2 are available for free to registered users on CompeteFor, which was the supply chain portal used for the London 2012 Olympics. All businesses can see all HS2-related opportunities posted here, regardless of their size and location.
If businesses are not registered on CompeteFor, they can not bid for HS2 contracts.
What are the eligibility requirements for accessing HS2 contracts with Eiffage Kier in Buckinghamshire?
In order to become eligible to bid for and win HS2 contracts specifically with Eiffage Kier, businesses must register with and receive accreditation from Constructionline.
Constructionline is Eiffage Kier's chosen accreditation partner for HS2. The aim is to ensure "a robust, consistent approach to supplier prequalification and accreditation".
Constructionline accreditation has four levels; Associate, Silver, Gold and Platinum. These levels are designed to ensure prospective suppliers and available contracts are suitably matched up.
Any contractors that will be carrying out onsite work as part of delivering a contract will need to have achieved at least Silver accreditation. There is a fee involved for all levels above Associate, however, the fee structure is proportionate to a business's turnover. This upfront investment will prevent suppliers from having to complete lengthy prequalification questionnaires for every Eiffage Kier opportunity.
All other businesses can register as an Associate member after answering basic compliance questions. Associate membership is free of charge.
Resources to help you bid for contracts
For resources and helpful information on how to bid for a contract with Eiffage Kier, visit www.competefor.com/EiffageKier.
Are CompeteFor and Constructionline connected?
Yes. CompeteFor is where all contract opportunities will be advertised, while Constructionline provides the accreditation that businesses require to be eligible to bid for certain contracts on the CompeteFor portal.
Please note: While all HS2 contracts bid on through Eiffage Kier do require Constructionline accreditation, it is not the case that all HS2 contracts along the whole route require this accreditation.
Fewer than 1 in 10 Buckinghamshire businesses registered with Constructionline
Research by Eiffage Kier suggests that only 8% of potentially eligible businesses in Buckinghamshire are registered and accredited with Constructionline, meaning that a great number of businesses that could bid for and win HS2 contracts are not even giving themselves a chance.
Examples of accreditation requirements with Constructionline
As a guide, the following are included in the Constructionline requirements for Associate members:
Suppliers must be FORS Bronze and CLOCS certified if using own logistics fleet, or use a certified logistics provider
Sections C1 - C4 of the Constructionline questionnaire (PAS91) must be completed
All suppliers must have basic policies in place, such as: health & safety; quality; equality, diversity & inclusion; and environmental
All construction-related materials must be supplied by ISO9001 certified suppliers
All suppliers must be a member of the Supply Chain Sustainability School
Hundreds of local SMEs winning HS2 contracts
Hundreds of businesses that have gone through the process of ensuring they are prequalified and registered on Constructionline and/or CompeteFor have been winning HS2 contracts in the South East, including many micro and small businesses.
Read about one business that secured a contract and has plans to create 500 jobs in Buckinghamshire as a result. CA Blackwell also plan to invest in the local area by establishing a training centre that will train new apprentices in the construction industry and support specialist skills development for employees.
HS2 contact details for more information
For more information on supply chain opportunities throughout the HS2 project, email scc@hs2.org.uk or visit www.hs2.org.uk.
Speak to our team
Email BusinessSupport@bbf.uk.com, or call 01494 927130 for more information and support.