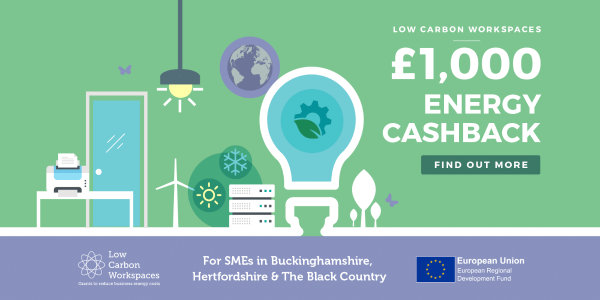 SMEs can get a £1,000 grant and suppliers of energy efficiency solutions can get their clients a discount at no cost to themselves!
Through the Low Carbon Workspaces £1,000 Energy Cashback campaign, grants of £1,000 are available to 50 small and medium-sized businesses spending over £2,000 on energy saving initiatives.
This campaign will benefit both suppliers and their clients! Read more about it >
For SMEs wanting grant funding to support their energy efficiency projects
Grants of £1,000 can be claimed towards LED lighting, heating and cooling upgrades, insulation, double-glazing, energy efficient computer servers and printers and other projects that will result in a quantifiable carbon saving.
This is a special time-limited grant from the Low Carbon Workspaces project to help SMEs fund smaller energy efficiency projects that still require funding to ensure they progress.
The maximum grant awarded is £1,000. For larger projects, grants of up to £2,500 are available to cover one third of project costs, so if your project is larger than £3,000, contact the Low Carbon Workspaces team to talk it through. Call 01494 927131, email info@lowcarbonworkspaces.co.uk, or leave a message online: https://www.lowcarbonworkspaces.co.uk/contact/.
Information for suppliers
If you have clients in Buckinghamshire, Hertfordshire or The Black Country, how would you like to offer them a £1,000 discount at no cost to yourself? You win new business and your clients reduce their energy bills and their carbon footprint.
You gain a client's business, trust and thanks all in one with this £1,000 cashback offer!
How can my clients receive the £1,000 cashback?
The application process is quick and easy. The grant must be awarded before completing the purchase (including deposits). Your client will receive their grant once they have paid you in full.
To start the process:
Then:
The team will make contact within 48 working hours to confirm their eligibility and help them complete their Application Form.
Their application will go to a Grant Panel to review the project and confirm there will be a carbon saving.
Within 5 working days, the team will email your client their Grant Offer, confirming that the money is reserved for them.
Once the project is complete and your client has paid you in full, your client will receive their grant by bank transfer within 30 days (usually around 14 days).
Why is funding available?
The Low Carbon Workspaces £1,000 Energy Cashback is funded by the European Regional Development Fund (ERDF) to accelerate the uptake of energy efficient technology by small and medium sized businesses, to help them reduce running costs and greenhouse gas emissions. It is managed by Ngage Solutions Ltd, a not-for-profit company and subsidiary of Buckinghamshire Business First.
List your business on the Low Carbon Workspaces supplier directory
Suppliers of energy efficiency solutions can get listed for free on this supplier directory, which is where the Low Carbon Workspaces team direct businesses that would like to apply for a grant, but who don't have a supplier lined up to undertake their project.
Connect with Low Carbon Workspaces on social media
The team will be promoting the £1,000 Energy Cashback campaign across their social media channels using #EnergyCashback.
Connect with the project via the following social media channels: