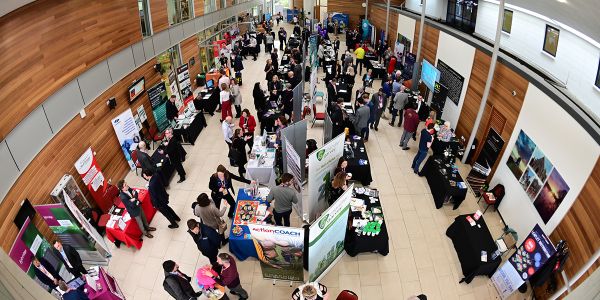 The Buckinghamshire Business Festival celebrated businesses in the Entrepreneurial Heart of Britain. Remind yourself of the events schedule.
The first ever Buckinghamshire Business Festival (March 4th-15th) was a wonderful celebration of business in the Entrepreneurial Heart of Britain. It was designed to bring the Buckinghamshire business community together and create promotional, networking and learning opportunities for local people and businesses. And that's exactly what it did!
Remind yourself of all the fantastic events that took place during the fortnight. If you missed out on any of the events, contact us at events@bbf.uk.com as we may have a similar event coming up that you can attend.
The Buckinghamshire Business Expo, Aylesbury, March 8th
The centrepiece of the Buckinghamshire Business Festival, the Expo attracted 200 visitors on the day to The Gateway in Aylesbury, with 50 exhibitors lined up to showcase their products and services.
As well as this, there was a conference covering digital technology, preparing for Brexit, satellite applications, how technology changes the way we make people decisions, and changing workforces. There were also workshop covering topics like leadership, tax, cyber security, video content and digital marketing.
Buckinghamshire Brexit Summit, Buckingham, March 6th
If you missed the Brexit Summit, and missed our round-up of the event in the last newsletter, have a read now to ensure you don't miss out on the helpful advice and resources that were discussed and shared on the day. Read the Brexit Summit round-up here >
Speakers included representatives from the Institute of Directors; the Federation of Small Businesses; the Department for Business, Enterprise and Industrial Strategy (BEIS); and Buckinghamshire County Council.
Buckinghamshire Business First has made a point of compiling much of the advice and resources available to businesses in one place, at www.bbf.uk.com/brexit.
Wycombe Property Social, High Wycombe, March 6th
Hosted by Blaser Mills Law, this was a great opportunity to meet with property professionals in Buckinghamshire, hear from some of the leaders in this field, and learn about 'Bucks Prop Fest 2019'.
Making Tax Digital, High Wycombe, March 6th
MHA MacIntyre Hudson's Tax Manager Steve Evenden and Digital Solutions Project Leader Oliver Mangham hosted this seminar on how an increasingly digital world is already affecting all businesses and what businesses can do to ensure they are prepared to take advantage of the change that Making Tax Digital brings.
Being a Frontier Leader, Buckingham, March 6th
This event was for those who have to make decisions that affect their organisation. It was delivered by Adrian Spurrell, co-author of "The Seven Steps to Frontier Leadership".
Business Information Session Drop-in, High Wycombe, March 6th
High Wycombe Library invited people to pop by to find the information they need to start a business, trade legally, research companies, find an office/premises, explore a new career and more.
Routes Into Creative Industries, Pinewood Studios, March 7th
The Buckinghamshire Skills Hub hosted this Routes Into Creative Industries at Pinewood Studios. The event connected businesses with people looking for work opportunities, and on the day 200 visitors meet 20 creative businesses with those very work opportunities.
Money drop-in clinic, Aylesbury, March 7th
Experts at Hillier Hopkins LLP, Wills & Trusts and JLM Mortgage Services provided one-to-one help on subjects including tax help, property guidance, saving advice, pension provision, mortgage matters, and top tips for starting a business.
Learn how to innovate successfully, Aylesbury, March 8th
This event explained the roles that the Government's innovation agency, Innovate UK, and 'family' organisations (Knowledge Transfer Network – KTN, Enterprise Europe Network – EEN and the Catapults) play, and facilitated one-to-one access for those that were interested in finding out more.
Buckinghamshire Thames Valley LEP Annual General Meeting, Aylesbury, March 8th
As part of BTVLEP's networking breakfast and AGM, Alan Cox of Satellite Applications Catapult provided an insight into how satellite and space technologies are already shaping our world and how the next generation of satellites will further transform how we live and work.
Why management development matters for small businesses, Aylesbury, March 8th
Freddie Guilmard from The Red Thread Partnership helped businesses understand the difference professional leadership and management has on an SME and taught them some key tips on how to successfully grow an SME.
MTD for VAT - Making Tax Digestible, Aylesbury, March 8th
This workshop from APS Accountancy focused on the impending change to Making Tax Digital. The interactive session helped participants understand what the new VAT reporting rules are and whether any of the exemptions might be applicable.
How to ensure your business premises boost your productivity, Aylesbury, March 8th
This event from Chandler Garvey included a review of business premises in general and how important they are to productivity and staff retention. Topics included exiting your current premises if you have been given notice; negotiating a lease renewal; acquiring new premises; and pitfalls and traps.
Routes Into Work, Aylesbury, March 8th
Routes into Work brought together businesses from a range of sectors and people looking to start or progress their career, whether it be through a full/part-time job, apprenticeship or traineeship, as a freelancer, or those looking to get some work experience.
Cyber Fraud: the art of the online hustle, Aylesbury, March 8th
Cyber fraud is evolving into a more sophisticated game, especially scams targeted at businesses. This event saw two experts - Jon Jackson, Senior Lecturer at Bucks New University and Mark Gosland, CyberProtect Officer at Thames Valley Police - share advice with businesses.
Focus on Digital Marketing, Aylesbury, March 8th
Businesses spent an afternoon talking all things digital strategy with James Pybus - a digital marketing consultant, trainer and author with over 20 years of experience in the industry and extensive first-hand knowledge of what works (and what doesn't) when it comes to increasing a business's online visibility with their specific customers.
How not to waste money on video content, Aylesbury, March 8th
York Woodford-Smith from Five on a Bike Ltd guided attendees through the process of identifying where video can add the most value, using real life examples to show how an investment in video can drastically improve leads, conversions, and sales.
Pop Up Art Weekend, Aylesbury, March 9th-10th
Chilterns MS Centre hosted their Pop-Up Art Weekend where they transformed the Chilterns MS Centre into an Art Exhibition & Sale. The event showcased work from over 100 professional and amateur artists.
Be Your Own Boss 2-day intensive course, Aylesbury, March 11th
The Be Your Own Boss service from Buckinghamshire Business First helps people to start their own business. This particular course helped people learn digital skills, the basics of accountancy, how to produce a business plan, and marketing and sales skills.
If you know someone who is starting a business, please do forward them on this link and let them know about the Be Your Own Boss service: www.bbf.uk.com/byob.
Creating and maximising your content, High Wycombe, March 11th
PR expert Elaine Begley and former Bucks Herald Editor Steve Cohen discussed how businesses can create engaging content and make it work harder for them.
Westcott Space Cluster Open Day, Westcott Venture Park, March 12th
This Open Day took in the Westcott Business Incubation Centre (BIC) and the Westcott 5G Step-Out Centre, located in the Westcott Venture Park, home to a growing nucleus of space related companies developing new innovative technologies.
The Westcott BIC encourages the development of new companies working in the strategic growth areas of rocket propulsion, 5G communications, drones and other autonomous systems. The 5G Step-Out Centre offers a unique 5G facility to test and develop new services and products by accessing the latest wireless applications service equipment.
Leading Teams Through Change: Public and private sector learning together, High Wycombe, March 12th
Businesses are operating in uncertain times, but in such times it is by working together that we can remain optimistic and plan for growth, not just for survival.
Buckinghamshire Business First collaborated with Thames Valley Police on an event that brought the worlds of business, sport, faith, medicine, and emergency services together to share best practice on leading teams through change. The fantastic speakers were Aly Bowman of Thomas International; Gareth Ainsworth, Manager of Wycombe Wanderers; Angela Spang of JUNE Medical; Shaukat Warraich of Faith Associates; Kevin Brown and Jonathan Chandler of Thames Valley Police; and Dr Sarah Abbas.
How to 'Brexit-proof' your business, Amersham, March 12th
Helen Pethybridge of ActionCOACH advised businesses on how they can be more resileint, taking attendees through 'The Four Ms' of growing profits in any economic situation and tips to retaining and building a strong team.
The positive benefits of CSR to your business, High Wycombe, March 12th
Corporate Social Responsibility was the focus of CSRA's free workshop, as they showed businesses how to develop and communicate a CSR activity and demonstrate responsible and ethical best practice to all audiences.
CSR is something Buckinghamshire Business First is passionate about, and this month we have been awarded CSR Gold Accreditation for our efforts.
Small Business Curry Club, Marlow, March 12th
This was the latest fun, informal monthly gathering for local business owners to chat, exchange contact details and get to know each other over a delicious meal.
RAF Halton House Business Breakfast, Wendover, March 12th
Businesses met with all three services, networking with them and other local businesses and organisations as they learnt about the opportunities for local employers to engage with the Defence sector.
Buckinghamshire's Armed Forces Day takes place on June 29th 2019. Businesses can sponsor the event and take a stand. Find out more here >
Workplace wellbeing, Aston Clinton, March 13th
This event showed businesses how they could improve their working environment and productivity through healthier and happier employees. Participants gained a broad understanding of mental health issues, how they can support employees in the workplace, and an insight into the Live Well Stay Well service.
The event was hosted by Buckinghamshire County Council Public Health in partnership with Parkwood Healthcare, providers of Live Well Stay Well, and Buckinghamshire Mind.
Business Information Session Drop-in, Aylesbury, March 13th
Aylesbury Library welcomed people to drop by to find the information they need to start a business, trade legally, research companies, find an office/premises, explore a new career, and more.
Business Leaders' Dinner, Marlow, March 14th
It wouldn't be a business festival without an appearance from the highly sought-after Business Leaders' Dinners.
The latest event took place at Danesfield House and featured a great speech from Emma Walker, Managing Director of Ashridge Group on 'Growing Your Workforce'. Emma revealed how Ashridge engage with their team through training sessions, employee forums, 'thank you' cards and more, and revealed how the business supports charities through the Ashridge Foundation.
Keep an eye out for details of our next Business Leaders' Dinner!
Emergency First Aid at Work course, High Wycombe, March 14th
This Level 3 Emergency First Aid at Work course was ideal for individuals and small or low risk workplaces, or for those who want to empower themselves with the core basics of first aid. Delivered by FM Training, a local first aid training provider.
Online Fraud and Cybercrime, High Wycombe, March 14th
The growth in e-commerce and online banking has given rise to an unprecedented increase in cybercrime and online fraud. At this event, Dan Martin, Head of Criminal Defence at Blaser Mills Law and Dan Maund, Police Cyber Security Advisor, South East Regional OCU, focused on passwords, GDPR, privacy, Wi-Fi, phishing and insider threats.
Chiltern Chamber Chesham Breakfast Club, Chesham, March 14th
The Chiltern Chamber of Commerce held the latest in their successful series of networking events.
Open Day - Making Tax Digital for VAT, Aylesbury, March 14th
APS Accountancy hosted a free open day to provide more information about how Making Tax Digital affects businesses.
How to build and grow your contacts, High Wycombe, March 13th
This workshop, delivered by Tony Silver of Solid Silver Solutions, took attendees through all of the stages of building valuable business connections - from pre-networking to building the relationship through LinkedIn.