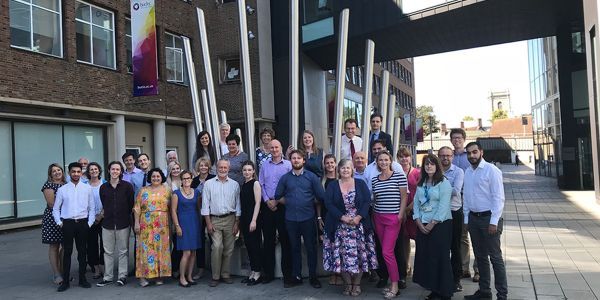 Get ahead of the curve and work out what support you'll need in the new year. Our business support covers all bases, so no excuses!
Check out the wide range of support on offer from the Buckinghamshire Business First Group and get in touch to find out more!
Let it grow, let it grow, let it grow!
In predictable fashion, Buckinghamshire Business First's word of the year for 2019 is…….Growth!
Of course, there are many factors that play into business growth, but whatever it is you are trying to achieve, we'll have something for you.
Growth Programme
Through our Growth Programme you can access a £1,000 grant to help fund an investment in a specific project that will deliver growth to your business.
Take a look at some examples of how a Growth Grant has supported local businesses ambitions:
Growth Advice
Receive tailored support from our team of experienced business advisers. Through the following services, your dedicated adviser can help you to plan and implement a growth strategy for your business:
Face to face meetings, telephone and email backup
Growth-focused workshops
Investment readiness support
Referrals to other specialist advice and services
For more information on the Growth Programme, call 01494 927130 or email BusinessSupport@bbf.uk.com.
Under the Growth Programme you can receive tailored business support OR a Growth Grant, but not both.
Get 'Fit4Funding'
Fit4Funding, our free business consultancy service, is part of the Growth Programme and is aimed at helping Buckinghamshire businesses to grow.
Fit4Funding, delivered by finance specialists Harwood Hutton, offers eight hours of complementary guidance and combines bespoke one-to-one consultancy with a series of interactive workshops on themes such as budgeting, forecasting and understanding different types of finance. There is also a Dragon's Den-style session where businesses can learn the secrets of presenting their business plans and vision to potential backers.
Find more information here, call 01494 927130 or email BusinessSupport@bbf.uk.com.
Business Support webpage
You can access a wealth of business support information on our website. Familiarise yourself with everything that's on there, and get in touch for more information if required.
Buckinghamshire's Growth Champions
Don't forget to turn to the advice of some of Buckinghamshire's successful businesses when trying to grow your business. Buckinghamshire's Growth Champions are full of fantastic advice, having faced the same challenges you will. Their advice shows that no matter the challenge, there is a way to overcome it.
Get inspired with the following videos:
Another excellent events programme
Whatever you look for in an event, Buckingamshire Business First has you covered.
Networking? Check. Skills training? Check. Social media help? Check. Increasing sales? Recruitment support? Increasing profits? Check. Check. Check.
Keep searching our events page as more and more events for 2019 will be added over time. There are already plenty there that you can book onto, so have a gander.
For more information on our events programme, email events@bbf.uk.com or call 01494 927130.
Support if you want to access workplace training
Discover which areas of your business need fine-tuning and then access workplace training with the help of a £150 voucher through the Buckinghamshire Skills Brokerage.
If you haven't done so yet, you can use the Virtual Adviser® tool to diagnose strengths and weaknesses within your business. You will then work with specialist skills advisers at Adviza who will help you find a training solution. Finally, a £150 voucher will help you pay for that training.
For more information, contact our business support team: 01494 927130 / BusinessSupport@bbf.uk.com.
Read how The Works in Aylesbury benefited from using the Virtual Adviser tool and receiving a training voucher.
Support if you want to cut your energy bills
Low Carbon Workspaces can help you save energy and money with grants of up to £2,500 to help you implement energy saving measures in the workplace.
The types of projects eligible for funding include:
electric and plug-in hybrid electric fleet vehicles
energy efficient boilers
LED lighting
water efficiency measures
workplace equipment (e.g. computers and printers)
insulation
Low Carbon Workspaces Project Office Lisa Gibson explains: "We welcome applications for a wide range of projects. The best thing for an organisation to do is to contact us to find out if their project is eligible for funding."
Read about previous projects funded here, and contact the team to see how they can help you: 01494 927131 / info@lowcarbonworkspaces.co.uk.
Promote your tourism business with Visit Buckinghamshire
Get listed on the most visited tourism website in the county - Visit Buckinghamshire! Make sure you are front and centre when people from near and far search for things to do in Buckinghamshire.
Visit the website for more information, or email info@visitbuckinghamshire.org.
Support for businesses affected by HS2
If you have a retail or tourism business that is within 5km either side of the HS2 construction route in Buckinghamshire, or you are a business within their supply chain, there is support on offer through the Visit Buckinghamshire Business Advisory Service (VBAS).
The service will ensure that affected businesses are supported to become even more resilient and are able to improve their performance, both now and in the future. The service is funded from HS2's Business & Local Economy Fund (BLEF).
For more information on the Visit Buckinghamshire Business Advisory Service, call 01494 927130 or email Jeremy.Green@bbf.uk.com.
Make 2019 an award-winning year!
Entering the 2019 Buckinghamshire Business Awards is easy:
Check out the available categories
Get some top tips on how to put together a great application
Submit said great application by April 18th 2019
Look out for your name when the finalists are announced on July 25th 2019
Get your gladrags on and enjoy the spectacle that is the Buckinghamshire Business Awards ceremony on October 9th 2019!
Get the whole lowdown on entering the 2019 Buckinghamshire Business Awards >
Contact our awards team for more information: 01494 927130 / awards@bbf.uk.com.
Be Your Own Boss
One thing that we would love our members to help us with is our Be Your Own Boss service.
This service was new for 2018 and exists to help people start a business, providing all the necessary support to help them navigate the various stages of doing so.
As well as spreading the word about the service to anyone you know who is trying to start a business, you can also help by offering start-ups some mentoring and advice or products and services pro bono to really give them a helping hand in the difficult early stages of running a business.
For more details, call 01494 927130 or email BusinessSupport@bbf.uk.com.
Support young people into the world of work
Through the Buckinghamshire Skills Hub, you can offer to support school and college students with workplace visits, careers talks, CV workshops and more.
This is through the Opps in Bucks platform that connects businesses and educators in Buckinghamshire. It's free to sign up. Find out more information here >
Promote vacancies to young people
Through the Skills Hub's WANNABE platform, you can advertise any apprenticeship, work placement or full/part-time job vacancies for young people to search for. This is another free service. Find out more information here.
For more details on how businesses can get involved with the Buckinghamshire Skills Hub, email skillshub@bbf.uk.com.
Tales to inspire your future successes
Supporting businesses is what we do. Read all of the inspiring tales of those we have helped from years past and think about the tale of business success that you could tell in 2019.