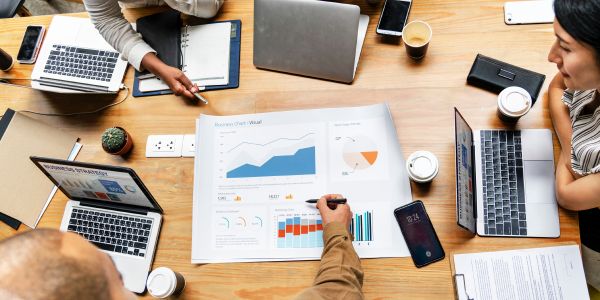 The vouchers can help you or your staff up-skill, but are only available until early February, so act now to ensure you don't miss out.
The Buckinghamshire Skills Brokerage project – a partnership between Buckinghamshire Business First and Adviza – has supported hundreds of local businesses with £150 training vouchers to spend on key areas of focus outlined in a bespoke report created by the Virtual Adviser tool.
But there's not long left to join the impressive list of businesses that have received a grant and put it to good use.
What can the voucher be used for?
The voucher can be used by business owners or staff members to brush up on business skills such as marketing, social media, sales, customer service, IT, finance, accountancy and more.
Take a look below at some examples of how local businesses have benefited from the Virtual Adviser and a £150 training voucher, and then start your own journey by:
The Virtual Adviser in action - local success stories
Eat at The Works
"Using the training voucher we received, my colleague went to Cognisant Training to receive support for his phobia of presenting," explains Tom Bolton of Eat at The Works. "A big step was made to improve his fears from the very first session and he has been practicing well since. He is due one more session to completely overcome his fear and become more confident in his managerial role. Without the support from Adviza and Buckinghamshire Business First we wouldn't have made this positive step forward."
Simply Alpa
Following a discussion with a Skills Adviser, Alpa Boll of Simply Alpa identified a number of areas of her business she felt would benefit from training. These ranged from accounts and finance to general business administration. Bespoke business coaching appealed to Alpa and her skills adviser was able to arrange a one-to-one session at a location and time that suited her.
The training is seen as a good return on investment and has enabled Alpa to prioritise areas to work on in the future. Training has enabled Alpa to see how her hobby has grown into a business, and how she can now focus on business growth.
Purple Consulting
Purple Consulting wanted to increase the confidence of two staff members when communicating with others within the business, as well as with customers and other stakeholders of the business. They attended a 'Presentation & Confidence Building' workshop and are now much more confident in the way they communicate within the office, on the phone and in customer meetings. Their customer relationships have improved in addition to the way in which they deliver customer service.
My Specialist GP
My Specialist GP had approached the Buckinghamshire Skills Brokerage with a view to up-skilling computer skills. Bespoke training was suggested by a Skills Adviser, and the belief is that the new skills gained have increased productivity, which will help with the development of business growth.
Neil Symington Personal Trainer
After a discussion to identify training needs, it was determined that website platform training would be a good step forward for business owner Neil Symington. The training led to an increase in productivity due to utilising new knowledge on the website, creating the potential for more business growth.
Venita Dixon
Following completion of the Virtual Adviser, Venita Dixon had a conversation with a Skills Adviser about her child-minding business. Venita had been interested in enhancing her IT skills for some time but the courses available locally were time and financially prohibitive.
Venita's Skills Adviser was able to broker bespoke one-to-one training sessions at her home and at a time convenient to her, within the budget of the £150 training voucher.
Hayley Watkins Photography
Hayley Watkins Photography became the 100th business to use the Virtual Adviser tool, and has since taken to the skies!
Hayley runs a photography business in Princes Risborough and initially used the Virtual Adviser tool to give her business a health check. Hayley was able to identify areas in which the business could improve and used the personalised report from the tool as a starting point when discussing her training needs with a skills adviser from Adviza.
Her skills adviser identified Hayley's business as being eligible for a £150 training voucher and Hayley used this to gain her Drone Flying License to enable her to take aerial footage.
Alex Pearson of Grumbling Gorillas Technologies on the £150 training voucher:
"This is great for small businesses based in Buckinghamshire. I put it towards an excellent 90 day business planning workshop with Kim Wilcox from The Business Coach."
Contact us for more information
Contact our business support team to get started on your journey to a £150 training voucher. Call 01494 927130 or email BusinessSupport@bbf.uk.com.
Where does the money come from?
The funding is part of the Buckinghamshire Skills Brokerage programme delivered by Adviza in partnership with Buckinghamshire Business First and is co-funded by the European Social Fund and Education and Skills Funding Agency.