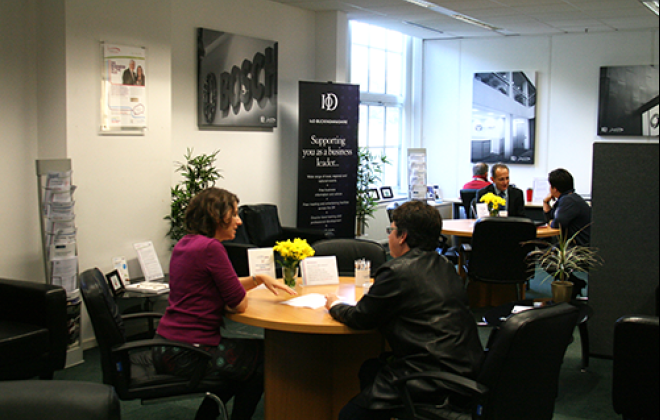 ARANZ Geo was formed in 2004 to market and develop the ground breaking 3D implicit modelling software Leapfrog, the leading 3D geological modelling software for the mining, exploration, groundwater contamination, and geothermal energy industries. The company's global footprint has since grown to include HQ operations in New Zealand and offices in Asia/Pacific, the Americas and Europe, and now their UK-based Europe, Middle East & Africa (EMEA) HQ in Chesham, Buckinghamshire.
Chesham was chosen as ARANZ Geo needed a headquarters with easy access to London and Heathrow Airport to help expand their client base and network in the UK and across Europe.
While finalising the move to Chesham, ARANZ Geo utilised the Buckinghamshire Business First & IoD Hub at our Saunderton base as a landing space, with our hot-desking facilities playing a particularly important role.
ARANZ Geo's investment journey had many phases, meaning that as well as Buckinghamshire Business First, the services of UKTI and the Thames Valley Chamber of Commerce (TVCC) were needed too.
Graham Grant, COO of ARANZ Geo, describes the support the company received from all three organisations: "We were impressed with the very efficient support we received throughout our investment journey. The UKTI team provided us with informed, insightful market research and intelligence to quickly inform our investment decisions.
"UKTI also helped us navigate the complexities of setting-up a business in the UK, including visas, banking, HR and legal requirements. Crucially they linked us into local networks – the Chamber and Buckinghamshire Business First - who helped us find property and gave us access to the Saunderton Hub whilst finalising our own office in Chesham.
"We are a global business, but relatively small in the UK and this support helped us set-up and operate really quickly."
ARANZ Geo is a world leader in the interpretation and visualisation of geological data for the mining, environmental, renewable energy and other geologically dependent industries.