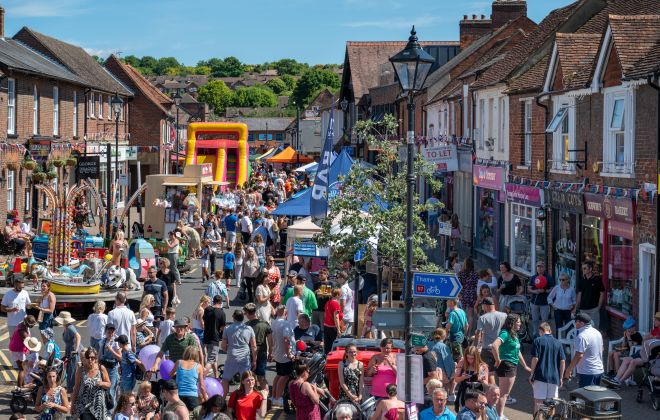 A project designed to help Buckinghamshire's tourism and hospitality trade recover and rebuild after the challenges of the Covid pandemic has proven to be a big success.
Visit Buckinghamshire and the North West Chilterns Community Board partnered on the six-month campaign which provide a range of support to a diverse group of more than 40 local businesses and organisations.
From accessing knowledgeable business advice and marketing support to building partnerships at networking events and discovering funding opportunities, these businesses received a timely boost off the back of hardships not seen for generations.
To achieve the required boost to the local visitor economy, the project harnessed the power of partnerships, joining the dots between the multi-layered support on offer to businesses in Buckinghamshire.
Matthew Walsh, Chair of the North West Chilterns Community Board, said: "The North West Chilterns Community Board were very pleased to be the first Community Board in Buckinghamshire to partner with Visit Buckinghamshire to promote the local economy. It is great to see that local businesses and organisations found the support helpful and worthwhile, and we now look forward longer term and will continue to support economic regeneration in our area."
The support made a huge difference to those involved, so we spoke to five participants about their experience with the Visit Buckinghamshire and North West Chilterns Community Board project.
Princes Risborough Council
"People were saying the summer festival was one of the busiest they've seen and how much they really enjoyed it. One local was even moved to tears." - Stephanie Boyle, Events and Communications Assistant
Princes Risborough is renowned for its active events programme, with the local council playing a key role in providing reasons to visit the market town.
They were determined to increase footfall in 2022, and worked with Visit Buckinghamshire to promote the busy events schedule they put together.
Whether it was the four farmer's markets and the summer festival or the Halloween trail and the Christmas lights switch on event, the residents of Princes Risborough and visitors to the town flocked to the events, plenty of them no doubt learning about the events through the intensive promotional efforts of the council via the Visit Buckinghamshire and North West Chilterns Community Board project.
Visit Buckinghamshire helped to amplify the council's reach and support their promotional activity through its own social media channels on Twitter, Facebook and Instagram, which have a reach of 20,000 followers. The various events were also featured in regular email newsletters and on the Visit Buckinghamshire website, which sees 30,000 visits per month.
The events were also wrapped up in the wider #BrilliantBucks campaign run by Visit Buckinghamshire to shine a spotlight on the wonderful attractions and places to stay, eat and drink in the county.
"Being able to advertise our events through the Visit Buckinghamshire website helped us to stretch further and reach more people," said Stephanie. "A lot of visitors need to see something advertised multiple times for it to register, so if they've seen events advertised a few times on our website and on Visit Bucks, it's really beneficial and it all adds up."
Moogies Ltd
"With the Russell Arms being a community-owned venue, we've got about 80 shareholders in the village. We sought their input before we invested in developing the garden space and it was unanimous. They said they'd be more likely to spend time in our pub." - Paul Mitchell, Founder and Managing Director
Moogies is a chain of four Buckinghamshire-based pubs which, amongst others, includes The Russell Arms in Butler's Cross.
With the consent of their village stakeholders, they utilised a £250 voucher from the Visit Buckinghamshire: Boost programme as part of a wider investment in their garden space – to make it not just pretty, but productive – growing herbs and vegetables for use in the kitchen.
But that was just the start. Connections made through Visit Buckinghamshire led to further opportunities for Moogies, including receiving a Growth Grant from Buckinghamshire Business First that helped them build relationships with local tourist attractions such as the Roald Dahl Museum and Bicester Village. This was part of a drive to increase the number of visitors staying overnight at Moogies' pubs.
And in another initiative, they've teamed up on a Talent Showcase with education providers such as Aylesbury College to offer work experience placements to young students.
Natural Inclusion
"The networking event was so valuable. I reconnected with Jim, the owner of the venue, and from that conversation we're planning to hold a Dining in the Dark event there." - Andy Shipley, Founder
With in-person events heavily impacted by Covid, Natural Inclusion had to set about rebuilding lost trade.
Crucially, they also needed to reconnect with their customers and the people who benefit from their services; the boutique events company teaches people to appreciate the power of their non-visual senses - hearing, taste, touch and smell - to help them reconnect with nature and the wider world.
Run by Andy Shipley, who is sight-impaired, the company helps to equip heritage and tourism organisations with the skills to create inclusive visitor experiences of their own.
As part of the Community Board project, Visit Buckinghamshire invited Andy to a networking event at Orchard View Farm attended by over 30 local businesses, including some old acquaintances such as venue owner Jim Mackellar.
By reconnecting with the local business community, Andy was able to have the kinds of conversations that spark ideas and collaborations, and he's now planning to hold sensory-friendly events - events that are designed to be less sensory stimulating and overwhelming - at Orchard View Farm, as well as holding discussions on the topic with the National Trust at Hughenden Manor.
The Visit Buckinghamshire website is the number one website in the county for promoting tourism venues and attractions by offering them free or enhanced online profiles, and is also full of resources that help those tourism businesses become accessible to all people, no matter what their specific circumstances.
Making the most of this opportunity, Andy was not only able to raise awareness of his offer locally by creating an enhanced business profile on the Visit Buckinghamshire website, but the support offered by Natural Inclusion was embedded within the site's accessibility advice and resources, positioning the company as a leader on accessibility and inclusion.
Widmer Farm Park
"It's been absolutely brilliant for us. We're starting out on a new venture and for them to be so supportive was great. It's nice to have someone proactively working alongside you to encourage you along." - Alison Paterson, Director of Operations
Widmer Farm Park opened in September 2022 as Buckinghamshire's newest farm-based family attraction, featuring llamas, alpacas and a host of other child-friendly favourites.
With the owners' experience previously focused on retail – the park is an extension on their successful Lacey Green-based equestrian centre and pet food store - having the support of Visit Buckinghamshire has been invaluable in learning how to promote a new tourism offer.
This included creating discounts for local people, utilising the wide reach of the Visit Bucks social media channels to shout about their new attraction, and receiving a voucher from the Visit Buckinghamshire: Boost project to fund new signage and enrich the visitor experience.
There was hands-on support from the Visit Bucks team too as they embarked upon site visits to Widmer Farm Park and identified opportunities to enhance the accessibility of the farm.
The Community Board campaign has been an exercise in capitalising on partnerships. Indeed, the Widmer Farm Park team attending networking events and finance masterclasses has helped them build connections and expertise.
"I think they're really worthwhile projects and it's reassuring to know that if I need any help, Visit Bucks are at the end of the phone," said Alison.
Hearing Dogs for Deaf People
"The 'Escape the Every Day' promotion with Sophie Morgan was really effective. Getting celebrities involved engaged a lot of people because it's not just us telling everyone how good we are… we're getting someone with a bit of nous and a bit of coverage themselves." - Rachel Topps, Project and Campaigns Manager
Hearing Dogs, a charity which trains dogs to live and work with deaf people, operates The Grange restaurant in Saunderton.
Though first and foremost a dining experience – "we wanted to get the restaurant side right," explains Rachel - the venue is designed with accessibility and acoustics in mind, while proceeds are used to support the charity's objectives.
A key challenge for the organisation is figuring out how to effectively take the customer on a journey from restaurant patron to supporting the charity more broadly. The onset of Covid didn't make building that offer any easier and with marketing budgets tight, they looked to Visit Buckinghamshire to help get the word out.
This led to Hearing Dogs being promoted in a range of prize-giving campaigns such as #BrilliantBucks and Visit Bucks' '12 Days of Christmas' activity. They also boosted their presence on the Visit Bucks website with an enhanced business listing and feature on the accessibility support pages of the website as an example of an inclusive and welcoming location.
"If I need to promote an event like an afternoon tea or Mothering Sunday, I can get in touch with Visit Bucks and they'll work on some social media content for us," Rachel explains.
Visit Buckinghamshire provides the support to the local tourism sector
Businesses can benefit from getting involved with Visit Buckinghamshire. Learn all about the perks of membership, including listing your events on the most-visited tourism website in the county.