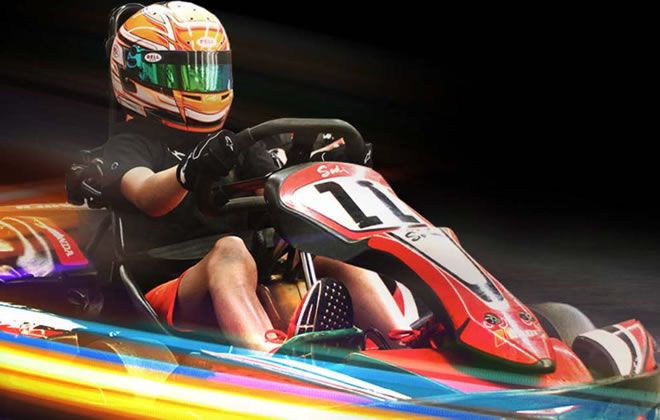 Viewpoint Videos was founded in 2014 by former racing driver David Humpston. David secured seed funding after studying on the Peter Jones Enterprise Academy and spotting a market for souvenir racing videos during his work experience placement with Rogue Racing in Aylesbury, comparing this gap in the market to the souvenir photos offered at theme parks.
By the start of 2020, the business was growing nicely within its niche of souvenir video systems, picking up new international clients at tradeshows in Germany and Italy. Sadly, the pandemic hit and suddenly the business was forced into financial difficulties as leisure venues in the UK closed indefinitely.
With no geographical limitations, the product works for any international market. David looked to expand into the USA by upgrading the product to allow it to be self-contained and self-installed. With no income from the UK market, it was necessary to look for funding to purchase stock so that he could sell internationally.
David had already been a member of Buckinghamshire Business First (BBF) for over five years, dating back to using the free co-working space at BBF's previous location in Saunderton. Via BBF's regular e-newsletter, David spotted the range of COVID-19 support grants on offer, including the Buckinghamshire Recovery Investment Fund, which helped businesses invest in resilience, repurposing or recovery initiatives.
The application process was simple and straightforward, with support available from BBF to discuss the eligibility requirements. The grant was used to scale up the number of systems available to Viewpoint Videos and create a fleet of video systems. This enabled the business to supply the largest karting firm in the world, K1 Speed, which has 45 locations across the USA.
"At a time when the UK leisure industry was closed due to the pandemic, Viewpoint Videos used the grant to branch out and offer its service to different international markets." - BBF Business Support Team
As more opportunities were created, David recruited a new employee at the beginning of 2021, someone experienced in different markets, ensuring the business is well-placed to react to new opportunities as lockdown restrictions are lifted here and abroad.
"Thanks to the grant from BBF, I was able to recruit a sales person, expand into an international market, and most importantly, avoid going out of business!"