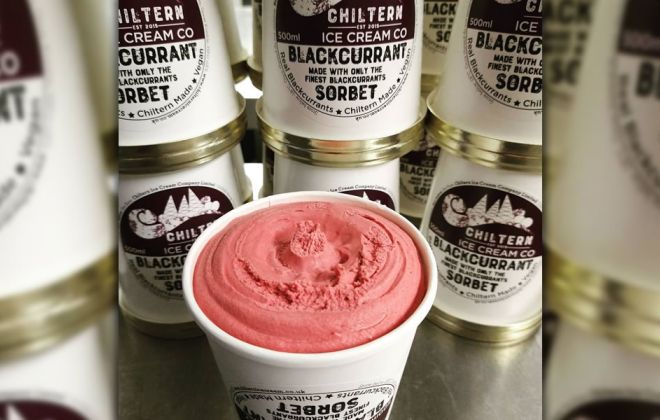 Across the Chiltern Hills and out as far as Oxford, a little electric van full of ice-creams, gelatos and sorbets weaves its way, delivering its rich, full-flavoured concoctions to restaurants, cafés and independent stores with a taste for the artisan.
"Some people thought we were mad when we got this van, but going electric just seemed to fit," says Arthur LaCour, owner of the Chiltern Ice Cream Company. "We're a local business with locally-sourced ingredients, local customers and suppliers and low food miles. We want to make a big impact on flavour, but a low impact on the environment."
In 2019, the Chiltern Ice Cream Company purchased an electric Renault Kangoo, with the aid of a £4,666 grant from Low Carbon Workspaces, to use as their primary method of distribution. Six months on, they offer a fascinating insight into the practical realities of ditching the diesel, and have cut their carbon emissions by 1.7 tonnes per year.
"I was always committed to the idea, but it wasn't an easy decision. When you transport ice-cream - if it melts, you don't have a product. And with the current technology, electric vehicles and refrigeration don't really mix. It would just drain the battery."
So before committing to a purchase, Arthur first had to find a packaging solution. "We found these big, recycled polypropylene boxes that only lose 1oC an hour. That's fine for our 3-4 hour delivery schedule."
Problem solved. Then he had to find the vehicle. "A lot of dealerships quote a 9-month wait or don't have one to test drive. So it took a bit longer to find, but we tracked one down. We went for the Kangoo, because although it's smallish, you can get around 110 miles out of a full charge. That works for us."
Arthur had already decided they would need to install their own charge point. "In London, there's plenty of infrastructure but not so much out here. You wouldn't want to rely on it - too few charge points and the charge times are too long. We needed our own." Navigating the wide range of suppliers, technology and grants available took a few weeks, but then he was up and running.
The first thing everyone worries about is range. "It takes about 6 hours for a full re-charge, which we do overnight. Then, as long as we plan our routes properly, we're able to complete even our longest delivery rounds with something in reserve. At lunchtime, we can come back to base, charge up for an hour, reload and go again for a shorter round in the afternoon. That gives us an extra 15-20 miles."
One thing Arthur has learned is the importance of adapting your driving style. "If you try to drive it like a fossil fuel vehicle, you won't get far. You definitely have to accelerate more slowly; anticipate stopping and take your foot off the accelerator. Overtaking is most probably something to avoid. It prefers speeds under 55mph. So it takes a little longer, and we have a lot of hills in the Chilterns, but I find it slightly calming."
The Renault's range projection computer has proved to be consistently accurate, which significantly reduces range anxiety. Of course, businesses requiring larger vehicles and longer ranges might still struggle with electric, but the technology is moving on apace.
And what has the reaction been like from Chiltern Ice Cream Company's customers? "Really good. Restaurant chefs come out to see what's under the bonnet. The positives have far outweighed any negatives. Under the right circumstances, an electric delivery vehicle is definitely a viable alternative, even in semi-rural areas like ours."
Chiltern Ice Cream Company have cut their carbon emissions by 1.7 tonnes per year.
Learn more about Low Carbon Workspaces
Low Carbon Workspaces offers grant funding to businesses to invest in their workplace, reduce their carbon footprint and open up opportunities to boost growth.
Visit www.lowcarbonworkspaces.co.uk for more information, call 01494 927131 or email info@lowcarbonworkspaces.co.uk.