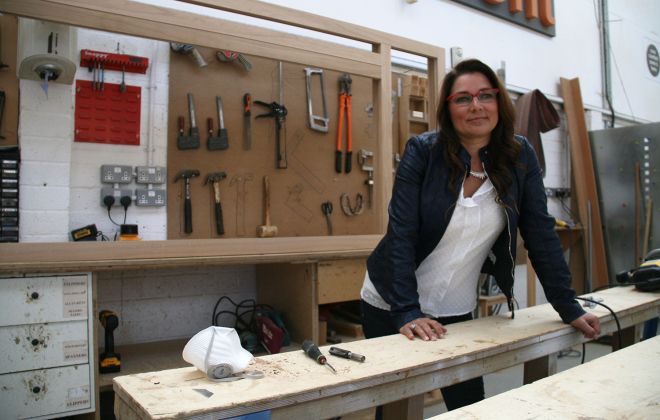 The kind of Buckinghamshire Business First (BBF) member we like the most is one who keeps coming back to engage with us for more support, more funding, and more information - which is why we are so fond of Urban Front!
Co-owned by Elizabeth and Nabil Assaf, Urban Front design and manufacture hardwood doors from their base in Chesham and export them to all corners of the globe.
It was a desire to save time, money and the environment that first led Urban Front to BBF, as Elizabeth explains. "Our first involvement with BBF came when we received a Sustainable Routes grant. After support from the project team we received a £1,000 grant to create an online marketing tool where we could showcase our doors, which meant we no longer had to travel the length and breadth of the country to do this. The time, money and carbon emissions saved because of this are incredible."
This wouldn't be the last time that Urban Front received funding from BBF, but in the meantime, Elizabeth was introduced to the business support team at BBF. "The team detailed all of the wide-ranging support that is on offer from BBF and have given us invaluable help and advice whenever we've needed it," says Elizabeth. "It's great to have people who are readily available on the end of the telephone to answer any questions we have. The business support team keep in touch with us to see how we're getting on, and we often go over the list of notes we keep of all the advice BBF has given us."
This type of advice is crucial to any business no matter their size or objectives, so it is heartening to hear that Urban Front has benefited from it. "A lot of the time BBF provides the basic support that businesses need, the kind of support that you would assume would be readily available. Speaking to friends of mine elsewhere in the country though, they tell me that there isn't anything like BBF where they are. I think that's a shame because BBF is such a good support network."
Referrals from BBF meant Urban Front were soon engaging with the Manufacturing Advisory Service, UK Trade & Investment and the Growth Accelerator grant scheme, and after taking advice on apprentices from BBF, Urban Front took on an apprentice and are looking to do so again.
Most recently, Urban Front received a £3,000 grant from the Grants for Eco Innovation scheme. This enabled them to exhibit at a trade show in Denmark – "something we simply wouldn't have been able to do if it hadn't been for the grant. We were then referred to another of the grants on offer – Low Carbon Workspaces."
"What else can I say?" Elizabeth ponders. "The BBF newsletters have been a real asset, especially all of the funding that is promoted in it. I also love hearing about what other local businesses are up to. But the next things on my BBF to-do list are the networking events!"