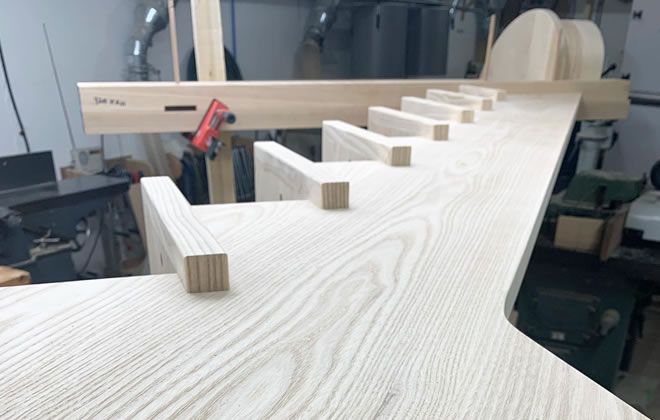 Jig Joinery design and manufacture timber joinery for residential homes, including windows, cabinets, staircases and fitted furniture.
The business relocated to High Wycombe in 2019, but when the first lockdown was announced, was hit with a double challenge of jobs being cancelled due to not being able to go to customer homes, and difficulty securing materials with many suppliers forced to close for a period of time. It took some time for the regulations to be clarified and for them to be able to return to work in residential homes in a COVID secure way.
Ben Dunn first became aware of the Restart Grant via another business contact who mentioned that Jig Joinery could be eligible for support. He investigated further through the Buckinghamshire Business First website. After a successful grant application, the business received funding to invest in new tooling from local hardware company Isaac Lord. The P-groove CD cutter and P-system connector is specifically for cutting melamine a different finish to timber.
Jig Joinery is now able to make bespoke wardrobes and cabinets in a form that enables customers to complete installation themselves, should they not feel comfortable having people working in their home.
"We're really grateful to Buckinghamshire Business First," said Ben. "We wouldn't have been able to invest in the new tooling at that time without the support of the Restart Grant. We have had several jobs since then where we have been able to use the machine straight away."
"Jig Joinery was potentially at risk of not being able to work due to COVID-19. The Restart Grant helped remove some of the risk of targeting new opportunities." - Buckinghamshire Business First representative
The value of the machine extends beyond the constraints of the lockdown, as in addition to potentially cutting down on the time taken to fit the furniture, it also enables Jig Joinery to offer a wider range of bespoke cabinets to customers. It has provided the team with an incentive to advertise the new range, confident in the knowledge that they have the tool in place ready to create the products.
Once lockdown restrictions start to ease again and consumer confidence grows, Jig Joinery estimate that it will help generate an extra 15% of revenue. They plan to actively market this new service to existing and new clients, which could lead to job creation for a cabinet maker.