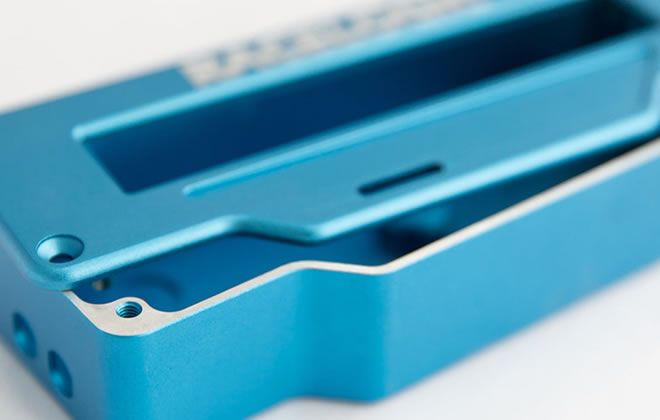 Alpha Anodising work within the manufacturing sector as a metal finisher based in High Wycombe. They anodise aluminium products for many industries, including medical, scientific, audio, aircraft and motor vehicles.
During the first national lockdown, they were appointed as a key supplier to complete parts for medical respirators and pumps in hospitals. The company provides a crucial chemical finish to aluminium parts, and offers clients pre and post-treatment services, including brushing, polishing, beading and printing, which can improve the appearance and performance of a finished product.
Discovering the Restart Grant
Alpha Anodising initially got involved with Buckinghamshire Business First (BBF) to find out more information about Brexit and its potential impact once the transition period came to an end. The team had learned about the Restart Grant in BBF's regular e-newsletter and wanted to identify a project that might be eligible for funding. This led to discussions within the Alpha Anodising team to identify what help was required in order to protect jobs and operate more effectively during the pandemic and beyond.
"We used the Restart Grant as an opportunity to generate ideas for improvement. The fact our grant application was successful and implemented quickly was a great motivator for the team and the business as a whole." - Leslie Sharp, Managing Director, Alpha Anodising Ltd
Thanks to these discussions and BBF's help with the application process and what types of activities would be eligible, Alpha Anodising completed a successful application for a Restart Grant.
The grant money was used to pay for additional software programming to automate the business's dispatch process and enable labels to be printed. The labels now show the exact details of the order and can be attached to the finished goods as a packing list, which has improved productivity and reduced manual errors.
"Our members are best placed to know what will make a genuine impact to their business. In this case, avoiding being prescriptive has allowed the business to improve and grow." - Buckinghamshire Business First representative
Alpha Anodising has been operating in a COVID-secure manner and has been able to continue to trade, ensuring that no redundancies were necessary. The company hopes to start recruitment in the spring as the business fully reopens.