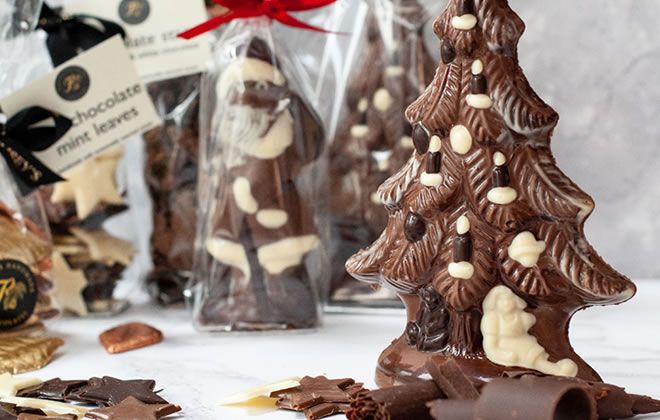 From its early beginnings when Nigel Rumsey started selling handmade chocolates from the kitchen table, to opening his first shop in Wendover with his wife Mary on Valentine's Day in 2004, Rumsey's Handmade Chocolates has grown into a business that now employs 43 people, including five chocolate chefs trained by Nigel, and operates a second busy chocolaterie in Thame.
At its heart, Rumsey's is very much focused on artisan chocolates. The chocolateries are a testament to that, with customers able to relax with a coffee and cake whilst seeing the chocolates being made on site.
When COVID-19 forced the cafes to close, and with a huge amount of chocolates already prepared for Easter, they turned to their existing website and focused on online sales, with free delivery for local orders. Fortunately, this allowed Rumsey's to continue to trade when the cafes were shut, providing much-needed work for staff alongside utilising the furlough scheme.
The website had been set up several years before and was primarily being used by customers checking opening times and other service information. Rumsey's invested in a massive website overhaul, complete with new photography. When Managing Director Kate Rumsey heard about the Restart Grant, she applied for funds to optimise the website for search engine optimisation (SEO) and run SEO campaigns for six months.
Kate applied for the grant in October 2020 and by November it had been approved and the new project was underway. This meant that Rumsey's could really maximise their online sales during the peak Christmas gifting season.
In fact, the SEO activity was so successful that Rumsey's ranked above Cadburys and other well-known names for "Chocolate Father Christmas" in online searches during December. Overall, online sales were up by 645% on the previous Christmas.
"The application and decision process for the Restart Grant was quick and easy, meaning that we were able to invest in SEO in time for our peak sales period," said Kate.
An additional benefit of the Restart Grant was that it took the financial risk away at a time when the business wasn't able to trade as normal and funds weren't readily available. It has allowed Rumsey's to test the concept of using SEO to drive sales for the chocolaterie and prove the return on investment, so much so that it is now likely to continue as part of an ongoing marketing strategy.
"I can't speak highly enough of the team at Buckinghamshire Business First," said Kate. "Every single time I speak to them, each individual willingly gives their time and expertise to help us move our business forward."