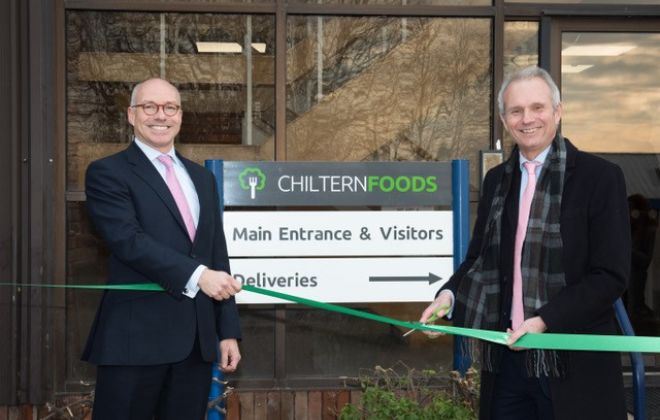 A leading UK manufacturer of fresh produce has opened a new state-of-the-art facility thanks to investment that included a £50,000 SEMLEP Capital Grant delivered on behalf of the South East Midlands Local Enterprise Partnership (SEMLEP) in Aylesbury Vale by our Business Support Team.
Chiltern Foods' new facility in Aylesbury will enable the business to expand its award-winning range of products and supply a number of new clients. At least 10 new jobs will be created to meet the growth of the business.
The £750,000 investment in the new 20,000 sq. ft. site was necessary as the previous premises had insufficient space to allow Chiltern Foods to achieve its growth plans. The new site has been transformed into a modern food production facility that will enable the business to meet the needs of its customers and consumers who seek healthy, fresh produce.
We asked Robert Pollard, Managing Director of Chiltern Foods, for more detail behind the grant award and what it means for Chiltern Foods.
What does the move to your new site mean for the future of Chiltern Foods?
The move has allowed us to re-design our processes and become more efficient while creating space and capacity for future growth.
What will the new job roles created involve?
The new jobs will be across all functions but mainly production staff. We are taking on a new NPD (New Product Development) staff member, as well as one for a sales/admin role.
Business seems to be going well. Are there any particular success stories you'd like to share?
The move to the new site has allowed us to secure business with current customers and has also enabled us to do business with other larger customers such as Costco and Whitbread, which I have recently managed to secure contracts with.
How helpful was the £50,000 grant to the process of moving to the new site?
The grant was very helpful and the Business Support Team were particularly helpful in terms of making the process very smooth, and ensuring we got the grant at all! Although in the overall figure £50,000 is a small percentage, it made the investment decision easier.
What was the grant application process like?
The application process was much simpler than others I have done at previous companies and in other regions. The Business Support Team are great!
SEMLEP Capital Grants were available to businesses in Aylesbury Vale. Buckinghamshire Business First delivered the grants in Aylesbury Vale on behalf of SEMLEP (South East Midlands Local Enterprise Partnership).