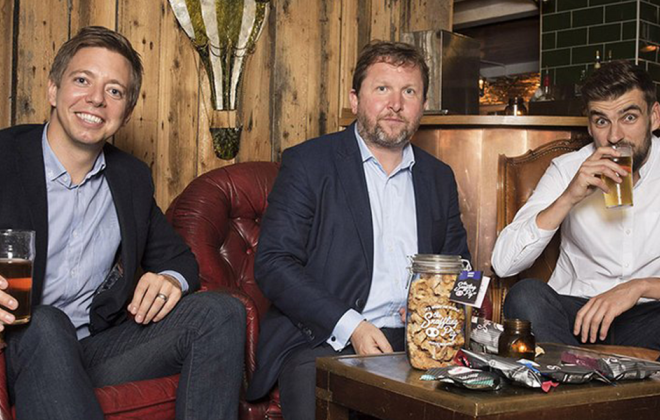 Buckinghamshire Business First members Snaffling Pig Co. stepped into the spotlight of the Dragon's Den to pitch for investment in their growing business, in an episode shown on Sunday 7th August. After more than an hour spent delivering their pitch and being interrogated by the Dragons, Snaffling Pig's Nick Coleman and Andrew Allen walked away with a £70,000 investment.
"Normally when you're pitching for investment it takes place over a significant period of time," explains Nick Coleman, Founder and Managing Director of Snaffling Pig Co, a vibrant pork crackling business based in Aylesbury. "With Dragon's Den it's one time and you're done. It certainly put us outside of our comfort zone, but although it was a tough process we tried to enjoy it."
Taming a dragon
Of course it helps to enjoy it when you manage to tame one of the Dragons and impress them enough to secure an investment. Nick Coleman and Marketing Director Andrew Allen made a great impression on Moonpig.com founder Nick Jenkins, who invested £70,000 for a 20% stake in Snaffling Pig Co. Nick Jenkins' experience with the online greeting card site is one thing that particularly delights the Snaffling Pig duo, given their ambitions for developing the online gift side of their brand. They're certainly coming from a good place in that regard, with their Crackling and Ale Gift Box named the Independent's best Father's Day alcoholic gift for 2016.
As Nick Coleman explains, the decision to try their luck on Dragon's Den was not borne out of the desire for publicity, nor entirely from the need for investment, but from something that matters a great deal to them: learning. "Yes, Nick Jenkins can be a great figurehead for Snaffling Pig and yes he can open doors for us," says Nick, "but we really value the mentoring role he can play for us too. We love learning from people, getting advice and applying it. Every day is a school day for us. Since we secured his investment we've met with Nick a few times and he's always been there for us on the end of the phone or over email. He's been really hands on, he wants to help us grow the brand in all the right places."
"We wouldn't be in this position if it wasn't for the support of Buckinghamshire Business First"
Nick Coleman also pays tribute to another great source of learning he has benefited from. "I'm not paying lip service when I say that we wouldn't be in this position if it wasn't for the support of Buckinghamshire Business First. Your newsletters and website are really useful and are another great learning tool for us."
Though it is an intimidating route to take in order to secure investment, Nick Coleman highly recommends going on Dragon's Den, but has this advice: "You must be very well prepared before you go on there. I've seen the ill-prepared step in front of the Dragons before and essentially kill their business off in one devastating, high profile moment."
"We'll continue to keep our heads down and work hard"
But with their products on sale at 900 locations and having not long since branched out with their beer range, the future is bright for Snaffling Pig Co. as long as they keep their trotters on the ground. "Every day can be a battle, so we'll continue to keep our heads down and work hard," vows Nick. "We're continually gearing up for the future and making sure we're prepared for whatever happens next."