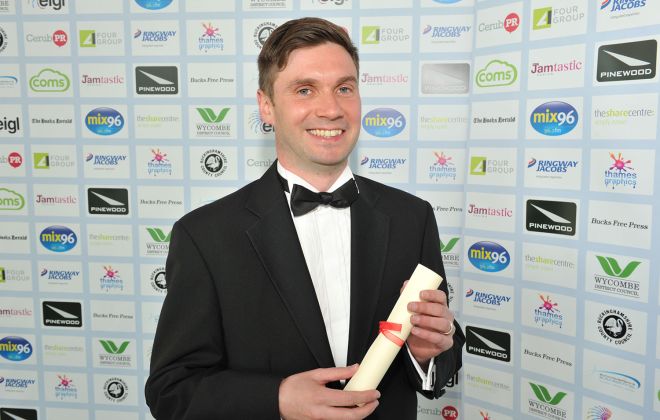 The FOUR Group and Epoq IT met at a Buckinghamshire Business First event and formed a business relationship that benefits them and keeps business local.
Epoq IT first came to the attention of the FOUR Group when they won two awards at the 2013 Buckinghamshire Business Awards and the two would meet again several times over the next year at events organised by Buckinghamshire Business First. One of those events was a workshop to promote the benefits of entering the 2014 Buckinghamshire Business Awards, where both Gary Swanwick of Epoq IT and Paul Mott of the FOUR Group spoke.
It was soon after this that the FOUR Group decided they needed a more proactive IT partner and turned to Epoq IT. After previously contracting this work out to a London-based company they felt they needed a company that was local to them, so this move brought business back to Buckinghamshire and kept the supply chain local.
The FOUR Group is a multi-disciplined construction consultancy company working across the county with some of the UK's best known brand names. Director Nigel Grace is delighted with the link-up: "Epoq IT is a bright, young, energetic business that provides us with proactive support as opposed to the reactive service we were previously getting and with Epoq IT right on our doorstep it also gives us a chance to create a strong, lasting business relationship with them. This new business relationship will greatly benefit FOUR Group and our staff as it will improve our operational efficiency, reduce downtime and get us a quicker response to any IT issues that come up, something we can thank Epoq IT and Buckinghamshire Business First for."
Gary Swanwick, Managing Director of Epoq IT who deliver industry leading IT systems support and project solutions, was equally delighted: "Our success at the Buckinghamshire Business Awards helped raise the profile of Epoq IT in Buckinghamshire and showed that we are a company worth working with. When the FOUR Group decided they needed a fresh approach to their IT support, they came to us. We look to develop strong, long term relationships with our clients, so I'm looking forward to helping the FOUR Group develop their business further over the coming years."
This is a great example of what can happen at a Buckinghamshire Business First event: two organisations meet, realise they can work together and do just that to the benefit to themselves and the local economy.