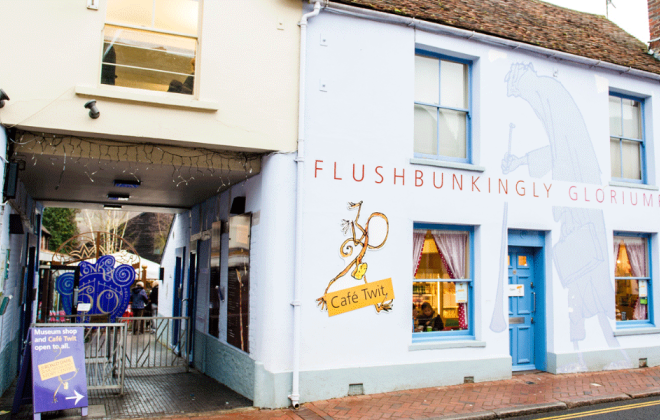 Accessing tourism support and forging local partnerships has helped The Roald Dahl Museum & Story Centre build a solid platform for growth.
The museum, located in the village of Great Missenden in the beautiful Chiltern Hills, is dedicated to one of Buckinghamshire's most famous and talented residents. Now, thanks to support from the Visit Buckinghamshire Business Advisory Service (VBAS), including promotion in group day trip flyers and travel magazines, it is hoped the museum will attract even more people through its famous doors to be inspired by a true literary great.
Museum aiming for sustainable growth
The museum's director, Steve Gardam, wants to target new markets and achieve sustainable growth in visitor numbers, particularly in light of the museum's proximity to construction sites for the High Speed 2 (HS2) railway project and the effects this may have on visitor numbers to the region.
Steve explains the growth plans for the museum. "We are aiming to increase our visitor numbers sustainably, focusing particularly on attracting the summer holiday crowds and marketing ourselves more strongly to travel groups as part of a Chilterns day out.
"As a key visitor attraction in the Chilterns, situated in Great Missenden and close to HS2 construction sites, we want to make the most of the opportunities available to us to keep our visitor numbers strong, and potentially increase them."
The impact of tourism on the Buckinghamshire economy
The tourism sector is a major player in the Buckinghamshire economy, with approximately 2,300 businesses employing 23,000 people, and more than £729 million spent locally each year as a result of 10 million day trips and 1.1m overnight stays in the county. Any drop in visitor numbers, for any reason, could result in a contraction of the visitor economy.
The VBAS service, funded by HS2 through their Business and Local Economy Fund (BLEF), was designed to help businesses mitigate the impacts of HS2 and take advantage of available support to become more resilient and improve their performance. The VBAS team provided targeted support to the Roald Dahl Museum & Story Centre to help them reach the new markets they were seeking, including through group travel promotion and encouraging the museum to collaborate with other local attractions.
"The VBAS team are regularly in touch with us regarding promotional opportunities inside and outside the county," Steve explains, "particularly to the groups market.
"Thanks to VBAS we have been included in a group day trip flyer alongside other local attractions, helping with our goal of becoming just one part of people's big day out in Buckinghamshire. To aid this further, we have also been included in a Buckinghamshire and The Chilterns promotional feature in the Group Travel World magazine, and will be sharing a stand with Visit Buckinghamshire at the Group Leisure and Travel Show in Milton Keynes in October 2019."
Collaboration is key to growth
Tourism is a team effort, and collaborations like these can yield great benefits. In this case, the task of increasing visitor numbers in the face of a challenge like HS2 construction is better tackled together. In a further sign of collaboration, The Roald Dahl Museum and Story Centre features alongside a host of other local attractions in a promotional video being created by Visit Buckinghamshire.
Steve is positive about the impact that the support from VBAS will have on the museum. "We consider these activities to be crucial in developing our offer and visibility to the group market. We have been delighted with the support we have had from the VBAS service. The team has been extremely proactive, friendly, and professional, and the support has proved fruitful."
Get support for your business
Do you have a tourism business? Contact Visit Buckinghamshire to see how they can help you promote your business far and wide. Email info@visitbuckinghamshire.org or call 01494 927403.
Do you need business support? Contact the Buckinghamshire Business First business support team and we will help. Email BusinessSupport@bbf.uk.com or call 01494 927130.