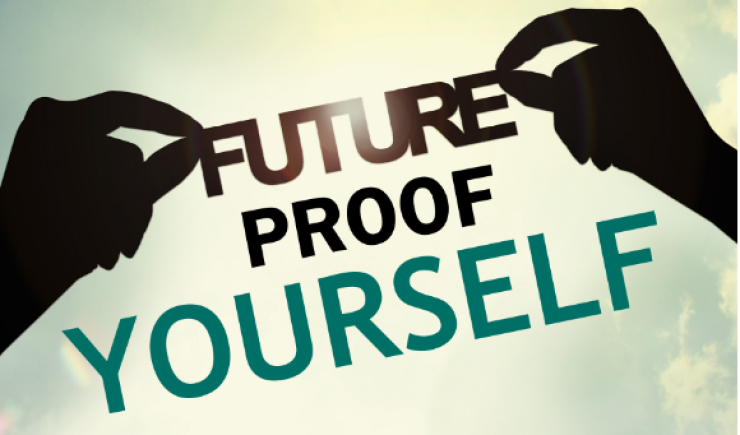 How to stay relevant and of value for the rest of your working career and to overcome the current testing times
What is Future Proofing Yourself?
In our current situation this is a vitally important subject on how we manage ourselves, our careers, self development in the short and long term so we can be of value and relevant in what is going to become a very competitive job and career market.
We are all like a commercial company; we sell our knowledge, skills, ideas, time, expertise and our wisdom to our employer.
In return we get a salary and receive other benefits. We give up our personal time and sometimes put our general health and wellbeing to the test by working long hours in pressurised environments, trying to achieve corporate results.
But all good commercial companies are great at developing new ideas, products and services for their customers. They employ people with the right skills and attributes, develop succession planning and invest in new technologies and skills. They diversify before the market changes.
These companies think one step ahead or, if they are really good, two steps ahead of the game with strategic thinking and excellent planning. For us as individuals, do we do the same?
Are we looking after ourselves?
Are our skills, experience, knowledge and thinking up to date?
Do we sit and analyse what our employers are going to want in the future from us?
Do we consider how the skills market is changing and what is needed in the next 5 to 10 years?
Do we treat our employers as customers and consider what do they need from us, now and in the future as their markets change?
Are we looking after ourselves, so are we are fit and strong enough to still be of value to our employers in the future and, in return, making ourselves employable for the rest of our careers
Why attend this webinar?
If we don't look after ourselves, who is going to do it for us?
Welcome to Future Proofing Yourself.
Contact Details and Links
Youtube https://www.youtube.com/user/MrYeabsley
Future Proofing https://davidyeabsley.co.uk/
Book Sales https://theendlessbookcase.com/e-books/future-proof-yourself/
Podcasts https://anchor.fm/future-proof-yourself
This is an event to help businesses through the COVID-19 (coronavirus) outbreak.
---
Details
Date:
28 May, 2020 - 28 May, 2020
Please note:
This meeting is taking place on Zoom and joining details will be sent through to you when you book your place by emailing: david@davidyeabsley.co.uk
If entering a Zoom meeting for the first time you will need to download a small application file – click on the invitation link and Zoom will redirect you to a webpage.
1. This webpage will ask you to download the Zoom app on your device whether you are using a desktop or a mobile device.
2. Once the application is downloaded on your desktop, install and open it.
3. Zoom should automatically open the meeting - if this does not open, head over back to your email and click on the invitation link.