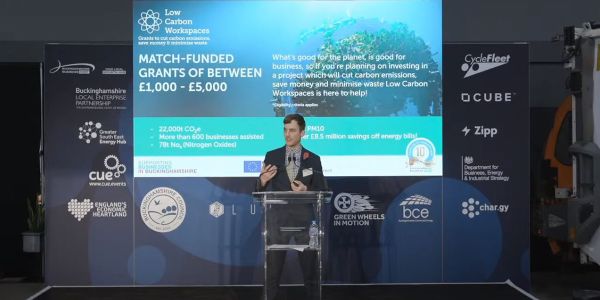 The SME sector will play a key role in achieving, or not achieving, Net Zero by 2050, accounting for 30% of UK emissions. See what action can be taken and read the main outcomes of global and local events aimed at halting the climate crisis.
Green Wheels In Motion – Buckinghamshire moves closer to Net Zero
Green Wheels in Motion was a COP26 Regional Roadshow that took place at the Lunaz Group's Silverstone Enterprise Zone HQ, hosted by Buckinghamshire Council and partners.
The event focused on sustainable transport solutions, showcasing a range of technologies and initiatives being developed and used in Buckinghamshire to decarbonise transport.
This included:
the innovative upcycling work by the Lunaz Group that converts vehicles such as HGVs and waste collection vehicles to being able to run on electric power
online demonstrations and presentations of the latest technologies by Robert Bosch Ltd
Buckinghamshire Council also announced it will be working to convert its vehicle fleet to electric power.
Read the full story of the Green Wheels in Motion event that brought Buckinghamshire's green thinkers together to move towards Net Zero.
The event can also be watched back here.
Event partners included Buckinghamshire Business First, Buckinghamshire Community Energy, Buckinghamshire Local Enterprise Partnership, and England's Economic Heartland.
'Big wins and setbacks' at COP26
Earlier this month, world leaders and national negotiators from 196 countries met in Glasgow at the COP26 climate conference to discuss how to tackle the climate crisis.
One of the main discussion points is how countries can cut global emissions to Net Zero by 2050, to help bring warming back to under 1.5C in the second half of the 21st century.
Among the key outcomes announced:
100 countries have pledged £14 billion from public and private funds to reverse deforestation by 2030.
A pact has been agreed to cut methane emissions by 30% by 2030. Methane is the second worst global warming gas.
40 countries have agreed to phase out coal-fired power between 2030-2040, including South Korea, Canada, Poland, Vietnam and Indonesia.
India announced that it aimed to generate 50% of its electricity from renewables by 2030 and go net zero by 2070.
On the downside:
Pledges already made prior to COP26 were estimated to lead to an increase of 2.7C in global heating. After COP26, taking into account firm pledges made, the estimated figure is now 2.4C – still a long, long way from 1.5C.
Longer term promises may restrict heating to 1.8C but are less concrete pledges, while 1.8C is still too high.
The $100 billion a year payments to developing countries to help them pay for clean energy will not be delivered until 2023. It was promised for 2020.
Compensation for countries already facing huge destruction from heatwaves, storms and floods was not agreed upon.
Dan Cope, Programme Manager at Low Carbon Workspaces, summarised the outcome:
"'Success' is a broad statement. Do we have an agreement that will unequivocally curtail temperature rises below 1.5C? No. Have enough pledges being made by countries to keep the door open and continue discussion? Possibly.
"What is imperative now however is that all nations stick to these commitments. We must speed up our interventions, rather than stall or delay them should a new crisis comes along."
James Murray, editor-in-chief of BusinessGreen, described COP26 as delivering "a series of big wins for the global net zero transition, as well as some worrying setbacks."
Acknowledging environmentalists' "inevitable tension between a pragmatic desire to welcome the considerable progress that has been made and the impulse to deplore the continuing failure to push the world onto the rapid decarbonisation pathway that might avert a rolling climate crisis", he identified five things that green businesses can be pleased about from COP26.
The role of SMEs
A key sector in achieving Net Zero in the UK and internationally is the SME sector.
SMEs contribute to around 30% of UK emissions and without their involvement in implementing emission-reduction projects, it is unlikely the UK 2050 Net Zero target can be achieved.
A challenge for many SMEs is where to start on their road to Net Zero.
Low Carbon Workspaces can help businesses on that road with grants of up to £5,000 to support a range of energy-saving initiatives.
Grants cover up to one third of the cost of capital projects such as LED lighting, heating upgrades, solar panels and more.
For more information about how to make a grant application, visit the Low Carbon Workspaces website.