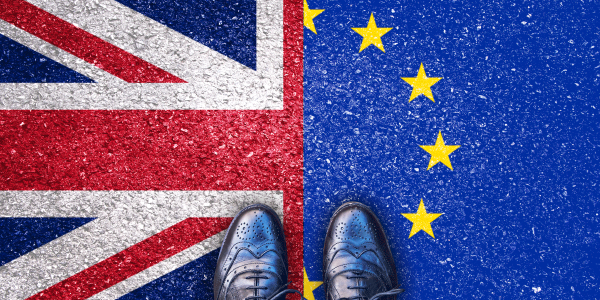 If you trade with EU countries, or if you employ EU nationals, two recent government updates will affect your business.
Get an EORI number to continue trading with the EU
On August 21st 2019, it was announced by the UK Government that HMRC would automatically allocate EORI numbers to more than 88,000 VAT-registered UK businesses in order for them to continue trading with customers and suppliers once the UK has left the EU.
What are EORI numbers?
EORI numbers are a unique ID number allocated to businesses that enables them to be identified by Customs authorities when doing business with other traders.
HMRC was to write to businesses within two weeks of the announcement to advise them of their assigned EORI number.
The importance of EORI numbers
Without one, the government warns that businesses "may have increased costs and delays" when importing or exporting, giving the example that "if HM Revenue and Customs (HMRC) cannot clear your goods you may have to pay storage fees."
If there's a no-deal Brexit, the government states "you will need an EORI number that starts with GB in order to move goods in or out of the UK."
Some businesses will already have one if they trade outside of the EU, but those who only trade within the EU will not have needed one until now.
Which businesses need an EORI number?
All businesses, not just those that are VAT-registered, need an EORI number to trade with the EU.
If you have not yet registered for an EORI number, you can do so here: https://www.gov.uk/eori
Update on the EU Settlement Scheme
The UK Home Office released the below message on August 21st 2019 regarding freedom of movement post-Brexit and how this affects EU citizens living in the UK. This will be of particular relevance to employers with EU national employees.
(Please note: this update was provided before the UK and EU agreed an extension beyond the planned October 31st 2019 Brexit date)
The Home Office message reads:
"There have been reports in the media and on social media regarding plans to end freedom of movement after we leave the EU, as well as what this means for EU citizens resident in the UK.
"We want to reassure all EU citizens and their family members in the UK that you still have until at least 31 December 2020 to apply to the EU Settlement Scheme, even in the event of a no-deal exit. Furthermore, if someone who is eligible for status is not in the UK when we leave the EU, they will still be free to enter the UK as they are now.
"Those who have not yet applied to the EU Settlement Scheme by 31 October 2019 will still have the same entitlements to work, benefits and services. Those rights will not change. EU citizens will continue to be able to prove their rights to access these benefits and services in the same way as they do now.
"Further details can be found in our free movement factsheet, but please feel free to contact us in writing by clicking here."
Visit our Brexit page for the latest information and resources
Our Brexit webpage features information on:
First steps for sectors
Preparing for a no-deal Brexit
Intellectual property
Data protection
Farming
Horizon 2020 funding
And more
Visit the webpage now and come back to check for updates as we gain more information over time.