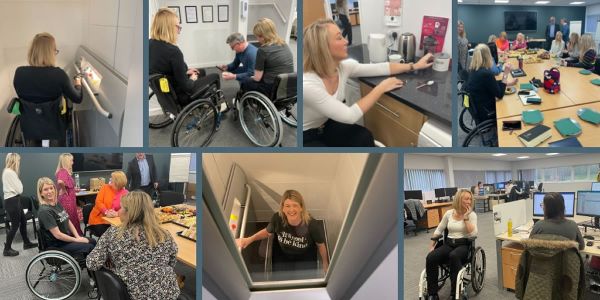 Stoke Mandeville Spinal Research were delighted to be invited to the Buckinghamshire Leaders' Dinner held in the beautiful surroundings of Waddesdon Manor in July.
Charity Ambassador, Luke Delahunty, gave an insightful talk about the realities of living life in a wheelchair, inclusivity and accessibility, drawing on his own experiences as a wheelchair user since a motorbike accident in 1996 left him paralysed from the chest down.
Approximately 1 in 5 of us will have accessibility issues in our lifetime, and Luke reminded guests why, in the Birthplace of the Paralympics, it's important to run and design businesses and their environments to be inclusive and accessible to all.
About Stoke Mandeville Spinal Research
Stoke Mandeville Spinal Research (SMSR) is an independent charity based at the National Spinal Injuries Centre at Stoke Mandeville Hospital. Their mission is to improve the quality of life for the 50,000 people in the UK alone living with spinal cord injury (SCI). They do this by funding research to help tackle the day to day, and often unseen, complications of paralysis, including neuropathic pain (a debilitating condition for many SCI people), pressure ulcers, urinary tract infections, and problems with upper limb function.
Their UK-wide research projects are selected for funding through a robust peer review process, led by a Scientific Advisory Board. Projects are awarded funding based on scientific merit and their potential to make real changes to clinical practice. Since 2019, SMSR has committed over £400,000 to life-changing research in the hope that this leads to new treatments and therapies to improve the quality of life for those living with SCI.
SMSR Ambassador Jamie Polks explains why research is essential: "Life in a wheelchair can be as fulfilling a life as everybody else's. It's the little things that people don't see that really affect us. It's the pain, pressure sores, bladder infections. The things that we don't want you to know about. It's those things that make life difficult, not really the fact that we are in chairs."
Get involved in a fundraising challenge to support SMSR!
Buckinghamshire businesses can support the charity by taking part in a Wheels at Work™ fundraising initiative. By challenging staff to spend a day in a wheelchair in their workplace, they will gain an invaluable insight into what life is like for those facing daily struggles and learn to empathise with wheelchair users as they go about their activities.
A number of local businesses and schools have already hosted a Wheels at Work™ day, including Aylesbury Waterside Theatre and Bush & Co (pictured above), helping to raise both awareness and funds for the charity's vital work.
Learn more about SMSR and Wheels at Work™
If you'd like to find out more about Wheels at Work™, please contact Kate Favell at kate.favell@smsr.org.uk or 01296 315255.
For more information about Stoke Mandeville Spinal Research, please visit: www.lifeafterparalysis.com
Follow them on Facebook, Instagram and Twitter @lifeafterpara.