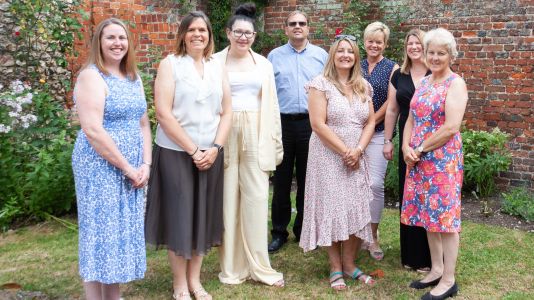 Our experienced team can help you tackle any recruitment or skills challenges you're facing.
New Workforce Skills Team
Buckinghamshire Business First has a brand new Workforce Skills Team that will continue the work of offering support on training and skills issues to businesses in Buckinghamshire.
Joining Workforce Skills Manager, John Browning, is Mary Cloake (Skills Adviser) and Siobhan McGeough (Skills Co-ordinator).
John is a learning and development (L&D) specialist with a background in corporate L&D, as well as many years' experience as a consultant advising businesses on their training and skills needs. He is also an apprenticeships expert and is ready to advise you on all aspects of the apprenticeship system.
Mary has extensive experience of managing a regional business unit for a national education charity, combined with a wealth of experience and broad range of skills and knowledge to inspire and support SMEs and charities across the county as they seek to grow their business and develop their staff.
Siobhan joins as our Skills Co-ordinator with a background in HR and, like the rest of the team, is looking forward to building relationships with, and helping to support, the wider business community in Buckinghamshire.
Together, they form part of the wider Buckinghamshire Skills Hub team (pictured), which itself is part of the Buckinghamshire Business First Group.
What can the Workforce Skills Team offer?
We can provide a wide range of guidance, including support that you may not yet know about:
A FREE 1-2-1 training and development review with one of our experts who will help you to identify skills gaps within your business and provide bespoke solutions
A free training and development plan tailored to the needs of your business
Free signposting to suitable local training provision – this could include apprenticeships, traineeships and work placements
Advice on engaging with schools and colleges to help you connect with talented young people with relevant qualifications
Guidance on how your business could offer internships and industrial placements to help strengthen your talent pipeline
Advice on recruiting the talent you need for your business, particularly during this tough time for the job market
Labour Market Intelligence (LMI) to help businesses plan for the future
Recruitment and skills challenges facing businesses
Our ability to understand the challenges and opportunities facing businesses with regards to recruitment and skills is enabled by the data and intelligence we gather in partnership with Buckinghamshire Local Enterprise Partnership (LEP), and from anecdotal evidence and stories from the coalface that we hear via events such as the recent Business Briefing on Skills Provision held alongside Rob Butler, MP for Aylesbury.
Many businesses are finding it difficult to recruit the right people, despite more online job adverts being posted in Buckinghamshire than since 2013. Despite this, there are still large numbers of people in Buckinghamshire who are unemployed or economically inactive. Indeed, Buckinghamshire has a higher proportion of economically inactive people who are not seeking work than the national average.
Skills shortages are reported in sectors such as construction, engineering, and film and TV. Many people newly entering the labour market right now are students, whereas highly-skilled older people have not returned to the workforce in large numbers after taking early retirement.
What does this mean for employers?
Remedies include:
Investing in current staff to train and upskill them
Recruiting apprentices to teach the required skills to a new generation (your current staff can also become apprentices)
Engaging with local schools and colleges to ensure you don't miss the talent of the future
This is what our Workforce Skills Team is here to help with!
If you have recruitment challenges or skills gaps, or you'd like more information on apprenticeships, or would like to engage more with local schools and colleges, contact our team today.
Email WorkforceSkills@bbf.uk.com or contact John Browning, Workforce Skills Manager, at John.Browning@bucksskillshub.org / 01296 798774.
Learn more about the support the Workforce Skills Team can provide >