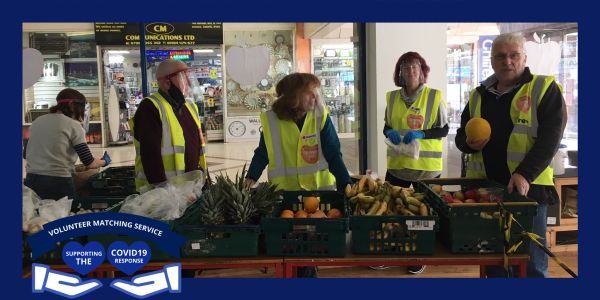 Have you thought about volunteering as a way to use your existing skills and experience, build new skills, broaden experience, enhance your CV and widen your pool of references? There could be the perfect volunteer opportunity waiting for you whilst you plan your next career move.
Volunteers are at the heart of most charities and community groups and they have a real impact on the lives of people across Buckinghamshire. There are many volunteering opportunities available in groups and charities local to you, offering a wide range of experiences from practical tasks to leadership roles. So why don't you get involved and make a difference?
Community Impact Bucks volunteer centre
Community Impact Bucks is the Volunteer Centre for Buckinghamshire and has a dedicated area on its website to help people find out more about volunteering. This includes volunteers' stories, practical guidance, FAQs as well as opportunities for you to volunteer with local charities and voluntary groups.
If you have specialist skills, are an expert in your field or interested in volunteering on a board, you can register with Community Impact Bucks' partner Reach Volunteering.
Alternatively, if you would like to find more general volunteering opportunities, register with Community Impact Bucks' partner Do-it. To register with either volunteering database, visit Community Impact Bucks' volunteering webpages.
Volunteering to support people affected by the COVID pandemic
The Buckinghamshire Volunteer Matching Service is recruiting a new cohort of volunteers who can be mobilised at short notice should further lockdown restrictions come into place.
The Service, which is run by Community Impact Bucks in partnership with Buckinghamshire Council and The Clare Foundation, matches registered volunteers to roles where they are most needed in the county. It is looking for volunteers from across the county but in particular for volunteers from the High Wycombe, Missendens and Chesham areas.
The Service is currently planning for an expected increase in need in our communities over the coming weeks. Individuals wishing to volunteer can register their interest by visiting the Buckinghamshire Volunteer Matching Service.
Heart of Bucks Winter Warmth Campaign
Heart of Bucks launch their Winter Warmth campaign, encouraging Bucks residents who do not require their winter fuel payment to donate it to local vulnerable people.
If you are able to help, you can donate your winter fuel payment, or whatever you can afford, online at www.totalgiving.co.uk/appeal/winterwarmth.