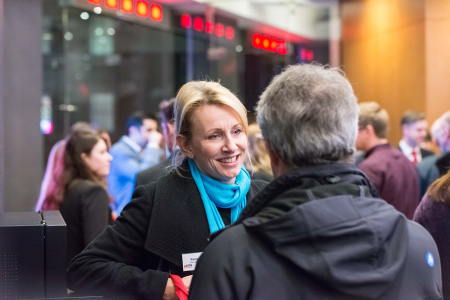 You know that there are hundreds, potentially thousands of companies that you could do business with, but wonder where to find them.
They won't come to you, so you need to get out and network.
Local networks
The Unknown Circle
The Unknown Circle is a brand-new place for businesspeople to make real human connections. This is an opportunity for everyone and anyone from any business background to get together for a drink and catch up in a relaxed and informal environment. There are none of the usual networking activities, just come along for a drink and a chat to make new connections and meet friends.
Aylesbury Business Club – ABC
A local Networking Group, Aylesbury Business Club meet every other Wednesday morning at Hartwell Nursery Café.
The Aylesbury Group
The Aylesbury Group meets on the first Tuesday of the month at the The Watermead Inn, Aylesbury. Membership and attendance is by invitation only, with members holding senior positions within professional businesses in and around Aylesbury Vale, normally with only one Member from each profession/sector.
Bucks Bizz
A business networking group with a community focus, based in High Wycombe, Bucks. Bucks Bizz was started by seasoned networking professionals, the organisation was created with the intention of creating a warm and welcoming environment in which to do good business thus helping local businesses grow. Membership is limited to one business per sector.
Business Buzz Aylesbury
Business Buzz Aylesbury operates from MIYA Japanese Restaurant HP20 1TZ, in the town centre of Aylesbury. It is held on the fourth Wednesday of each month, between 10am and 12 noon. Charge is £6 payable online – no cash (details on the link).
Bucks Fizz
Bucks Fizz is an established business networking club whose members help each other to promote, develop and grow their businesses. They meet fortnightly to share experiences, give support to fellow members and to refer business to each other.
Business Biscotti
Business Biscotti is a private membership organisation that allows you to attend two events before you have to join as a member. They have groups that meet across Buckinghamshire.
Business Connexions
A friendly, well connected and long established Business Networking Group of positive and like-minded business professionals. Business Connexion welcomes visitors and members covering a wide spectrum of business types. Meetings are held weekly on Thursday mornings at Gerrards Cross Golf Club.
Chiltern Leads
Chiltern Leads is an independent group of business people based in the Chiltern area who have been meeting regularly for over fifteen years. They meet fortnightly to discuss business matters and exchange information with the aim of developing strong working relationships and furthering their business interests.
Chiltern Business Connections
By attending networking events through Chiltern Business Connection you can discover how established businesses continue to prosper in hard economic times, share challenges and get advice from successful and skilled entrepreneurs and promote your business and get leads to the contacts you want.
Chilterns MS Centre Corporate Networking.
To support the charity Chilterns MS run quarterly networking events. These are at the centre in Wendover and each features an interesting talk from a local business and allows time for Networking.
Cross Reference Networking Group
Centred on Gerrards Cross, Cross Reference is one of the most dynamic and successful networking groups in the thriving South Bucks business community. They meet at 7:15am every Friday morning and over breakfast discuss a wide range of business topics.
Laptop Mondays
A local initiative to help small local business who work from home. Not a Networking group specifically, but you can work at different locations, who get a break from the isolation of working at home. Locations vary as does intriguingly the day of the week. This is free, you just pay whatever you consume at the host venue.
Handy Croissant
Handy Croissant is an independent group of business professionals based in South Buckinghamshire that meet every week to talk business, exchange tips and leads and develop strong working relationships and partnerships.
Thames Valley Women in Business
Thames Valley Women in Business was formed so that women could meet like-minded people, share ideas, advice & support, network, make friends and learn ways to expand and improve their business, as well as creating sales opportunities
The Network – Bucks
The Network – Bucks is a relaxed, informal networking group based in High Wycombe. You get your chance to present your business in a 60 second slot during the meeting. Meetings are every Thursday from 7am to 9am at the Wycombe Heights Golf Centre. Visitors and Guests are welcome to attend any meeting and find out what we are all about.
Wendover Chamber of Commerce
A group dedicated to making Wendover a great place to live and work, Wendover Chamber of Commerce meetings take place three or four times a year.
Whole In One
Established at The Harewood Downs Golf Club between Amersham and Chalfont St Giles, Whole In One meets four times a year. A sister group will also be established at Flackwell Heath Golf Club.
Networks for business women
Athena Network
The Athena Network is a business community for female executives and entrepreneurs. It provides a platform for members to share knowledge and experience across a diverse range of industry sectors, and to collaborate for mutual success.
Everywoman
Their events are dedicated to developing leadership skills, providing future leaders with tools and techniques, real life insights and advice from successful industry experts. Topics range from banking and finance to transport and logistics and technology and retail.
Ladies Who Latte
With over 30 free meetings every month, simply turn up, grab yourself a coffee and network. There are no speakers, no agendas and no meeting fees.
Mum Plus Business
Mum Plus Business started as a practical idea to help local mums develop their careers in a flexible manner. They hold events throughout the year.
Women in Business Network
The Women in Business Network is a membership organisation for women who wish to gain new business opportunities through word of mouth. Their members support and encourage each other through collaboration and the sharing of business contacts and opportunities.
Women in Rural Enterprise
Women in Rural Enterprise is a national business support network that promotes, supports and develops its membership of rural businesswomen. They offer access to networks where women in business share expertise and knowledge, build new skills, help boost confidence and support each other to build better businesses.
Business membership organisations
Buckinghamshire Business First (BBF)
A comprehensive networking programme that spans the county is available throughout the year.
Business Networking International (BNI)
BNI is a business networking referral organisation with over 12,000 members in the UK and Ireland alone. Every year through its networks, nearly 680,000 referrals lead to business worth over £400million.
Chartered Management Institute (CMI)
The CMI offers a varied events programme on topics that will be useful for businesses pushing for growth.
Chartered Institute of Marketing (CIM)
CIM regularly holds corporate and regional events that are designed to encompass all aspects of marketing, delivering content, contacts and the power to transform business performance. Most events are open to members and non-members, though some are open to members only.
Confederation of British Industry's (CBI)
Hear from high-profile speakers including cabinet ministers and business leaders, network with valuable contacts and catch up on the latest business trends at their range of exclusive dinners and conferences.
Chiltern Chamber
The Chiltern Chamber serves the interest of businesses in the Chesham, Amersham and Chiltern region. They seek to facilitate success for their members through information and networking, and by fostering a culture of mutual help and co-operation.
Federation of Small Businesses (FSB)
A wide range of events are on offer, from networking to dinners to social events, giving the opportunity to meet local like-minded business owners and to learn from seminars tailored to your field.
Institute of Directors (IoD)
The IoD runs a variety of events across the year, from monthly Pub Hubs which facilitate member to member networking in an informal environment and quarterly breakfast meetings in Aylesbury, to business focused discussion groups and seminars.
Make UK
Make UK is a membership organisation offering business support, advice and training for UK Manufacturers. Their services provide access to HR & Legal, Health & Safety, Learning & Development and wider expertise. They also have an EU Hub, offering specialist support to manufacturers as the UK develops its new relationship with the EU.
Marlow Town Chamber
An events schedule runs throughout the year for businesses with a stake in the Marlow community.
Thames Valley Chamber of Commerce
Over 130 events per year are held, ranging from topical speaker events and specialised forums to dinners for business leaders. The subjects covered range from local matters to global issues that affect the many different industries in the Thames Valley.
Networking for social enterprises
Community Impact Bucks
Community Impact Bucks holds events throughout the year to help make a positive difference to the communities of Buckinghamshire and its voluntary and community sectors.
Cooperative Futures
Co-operative Futures has been working with co-operative and community owned enterprises since 2000, helping them to become better businesses. Among the support on offer are events for businesses looking to grow.
Milton Keynes Community Enterprise
Milton Keynes Community Enterprise runs a series of events and workshops on a range of subjects to support enterprises that have the community in mind.
Social Enterprise UK
Social Enterprise UK is the national body for social enterprises, representing their members and helping grow the social enterprise movement.
The Clare Foundation
The Clare Foundation promotes established commercial methods, business expertise and entrepreneurism to the voluntary sector through its programmes, mentoring, shared best practice and networking forums.