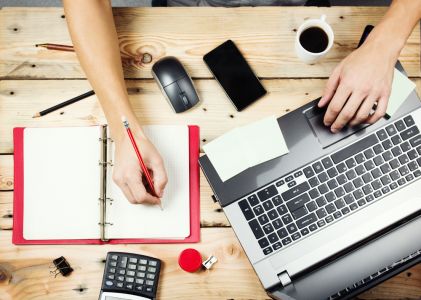 From the moment you get your business idea to the time you officially set up your business, there are six main steps you need to take.
Step 1: Start with an idea
Every business begins with an idea, so you'll need to come up with a realistic one that you can turn into a product or service.
Step 2: Research your markets
You should identify your potential customers and test your idea on them to see if there's a demand for what you're planning to offer. If it's practical and affordable, make a 'prototype' of your product or service. Researching the market you want to enter means checking out the too.
Don't be afraid to change your business idea based on what you find when researching. The feedback you get from potential customers will enable you to hone and perfect your ideas before you've spent too much time and money. Keep honing your idea and testing it with potential customers until you're sure they would be willing to pay for it.
Step 3: Get funding
Now you're ready to get some funding to help with your start-up costs. There are many different sources of funding available, including through the government, banks, crowdfunding schemes and business angels. There is also plenty of funding available specifically for those who are unable to secure it from high-street banks.
Step 4: Develop and plan
A business plan is essential at this point as it will help clarify your business idea and map out your long term objectives. This evolving document is a vital part of starting a business as it will help you set out your proposition and identify your target market, customers and competitors.
The business planning process will give you a feel for the various elements that will determine your success, from cash flow, to sales forecasting to your personnel structure. A good business plan will let you structure your finances efficiently, show potential investors the strength of your business, and focus your efforts on developing your business.
A business plan isn't written once; it's a living document that you return to periodically to help you spot potential pitfalls before they happen.
Step 5: Find partners, suppliers and premises
Your business is likely to involve working with other people in order to develop and sell your idea, so you will need to know how to approach and work with partners, suppliers and distributors.
Unless you want to work from home, you will need to find suitable premises. Take the time to learn about buying, leasing and maintaining business premises before you take any decisions.
Step 6: Set up your business
You'll now need to decide on what legal structure you want for your business, and then register for tax with HMRC. If you are setting up as a sole trader you do not need to register with Companies House, but limited companies do.
You may wish to trademark your company name to ensure no one else can use it.
Unless you are confident in handling your tax affairs, it is often sensible to take on an accountant, especially when filing tax returns.
If you plan on employing staff there are certain things you need to do, including getting employers' liability insurance. Even if you won't be employing anyone, you still need business insurance.
Depending on the type of activities your business is involved in, you might need to get certain licences and permits.