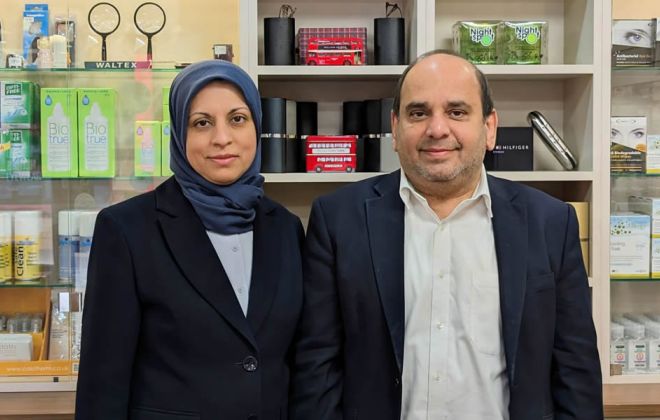 Clearsight Opticians
Founded in 1995 by Arif and Sukaina Master, Clearsight Opticians is a small, independent business which distinguishes itself in the competitive eyewear sector by offering personalised service, the latest optical technologies and high-quality products to over 16,000 customers.
Cost pressures
Despite their success, Clearsight faced a series of related challenges, including inflation, rising energy bills, and an increasingly price-sensitive customer base.
Keen to cut costs and reduce waste, they took up the invitation to join the Net Zero MK programme, which is funded by Milton Keynes City Council and delivered by Ngage Solutions.
How did Net Zero MK help?
The Net Zero MK programme helps organisations to precisely calculate their current carbon emissions and build a practical plan to cut them in line with science-based targets (SBTi) aligned with the latest climate science.
First: the fact-finding report.
After conducting a detailed interview, Net Zero Advisers at Ngage Solutions provided Clearsight with a comprehensive Net Zero Report detailing their emissions and identifying areas for improvement.
The report examined everything from heating and lighting, business travel, supplied goods and services, waste disposal and more.
"We have a lot of machines like our Optical Coherence Tomography scanner that we used to leave on all the time," says Arif. "Same with the lights. We didn't do it deliberately; we'd just forget about it. Net Zero MK brought us some awareness and a desire to do something about it."
Armed with the facts, Arif realised he had to make changes. To help, he was also armed with a £350 voucher from the Net Zero MK programme.
Second: two big practical changes.
Clearsight implemented two big changes – one technological, the other behavioural.
First, using their voucher, they installed smart plugs, smart LED lighting, and a remote thermostat, all controlled by a smart phone app which can be operated anywhere, at any time.
Secondly, knowing how important it was that everyone in the team understood and accepted the changes, Arif ran staff training which was greeted enthusiastically.
Clearly seeing savings
The results have been impressive. Comparing the corresponding periods from April to September in 2022 and 2023, Clearsight reduced their electricity consumption by a third, slashing their annual carbon footprint from 19 to 7 tonnes.
"Considering the increased energy prices, I think we'd have been paying double by now if we had continued the way we were," says Arif.
"It's time to stop the waste"
Inspired by their success, Clearsight are now turning their minds to further initiatives, such as offering customers a choice between new and recycled eyewear cases.
"Nine out of 10 patients say they have hundreds of cases at home – just sitting there unused," explains Arif. "If we could offer customers the choice – a new case or a re-used one - I think many would go for it. It's time to stop the waste."
How to get support for your Net Zero journey
If you would like to get involved: