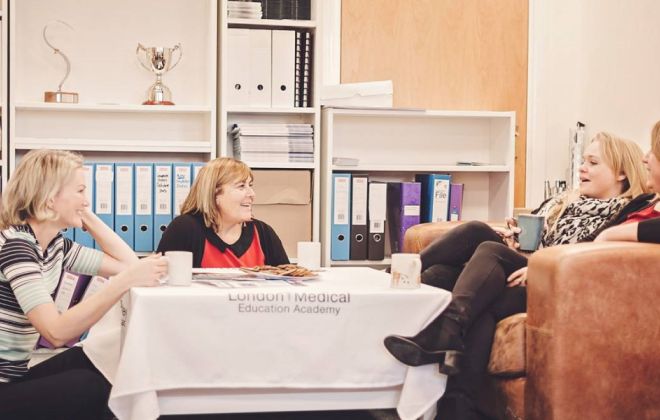 What's the best possible outcome of an apprenticeship? Is it the Managing Director describing apprentices as the best employees? Or the apprentice learning skills they will keep for life? Or the line manager discovering that she herself learned a lot from taking an apprentice under her wing? How about all three?
JUNE MEDICAL have had quite the experience taking on an apprentice and make for a great tale to encourage all parties – businesses, would-be apprentices, current employees – that apprenticeships really are good for all.
"Apprentices make the best employees"
There are three sides to this particular story, beginning with Managing Director Angela Spang, someone who knows the value of work-based learning. "I quickly got bored in school, and left as early as I could," Angela explains. "Learning on the job has worked well for me; I now run three fast growing international companies."
This philosophy is one reason why Angela has always been keen to bring apprentices into her team. "Apprentices make the best employees", as she says.
Enter Olivia Aston-Abbott, who applied for an apprenticeship as she wasn't quite sure how to go forward after leaving school. "She went on our apprenticeship rotation programme and found that her skills and talent led her towards people and face to face interactions," says Angela. "She now works full time as an employee in our Clinical Services team."
Olivia quickly became a valued part of the team, helped by the way that Angela approaches apprenticeships. "I believe in paying it forward, so I spend a lot of effort mentoring our apprentices," Angela says. "They work with the different parts of our team on a rotation basis, so they get to learn all areas of our business and can find out what best suits their skills."
'Talent Tuesday' event yields results
Angela is always on the lookout for apprentices, which is why she attended one of the Buckinghamshire Business First 'Talent Tuesday' events aimed at bringing businesses and young people together in order to instigate an apprenticeship placement. "We came out of the event with two good applications," confirms Angela. "Both will be interviewing for an apprenticeship with us."
Real life stories behind the stats
Angela and Olivia provide the real-life stories behind the statistics that say 9 in 10 apprentice employers report business benefits, three quarters of businesses improve the quality of their products or services after taking on an apprentice, and 9 in 10 apprentices are satisfied with their apprenticeship.
We can certainly put Olivia in that majority. "I would strongly recommend doing an apprenticeship to all students who are unsure about university or are dying to kick start their career," says Olivia. "The support I have received from JUNE MEDICAL whilst working towards my qualification has been phenomenal and the valuable work experience I have gained has given me skills that I will have for life."
"One of the most rewarding challenges I have ever been asked to undertake"
The benefits don't end there. Emma Maidwell, Olivia's line manager, has her own positive take on the whole experience. "Taking an apprentice under my wing has been one of the most rewarding challenges I have ever been asked to undertake. Watching Olivia grow in confidence, utilise her new found skills and start to think for herself makes me feel very proud.
"What I didn't expect was how much I have also learned from the experience. She keeps me on my toes and I enjoy hearing about her new modern ideas that sometimes the rest of us that have been in the workforce for a while may not have considered."
A happy Managing Director, happy employees and a happy apprentice? That's not just the best possible outcome of an apprenticeship, it's also an increasingly common one.