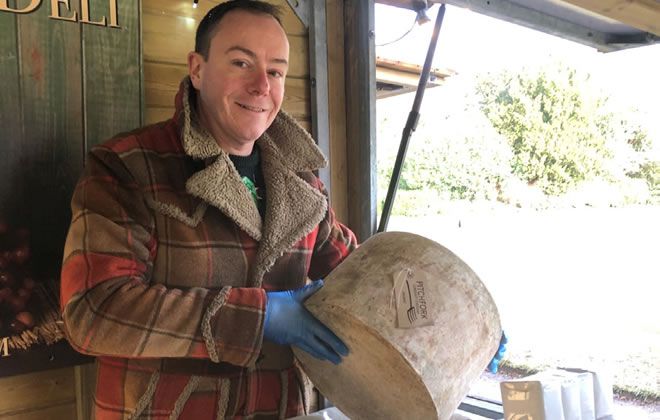 As a well-established business, No2 Pound Street in Wendover was thriving as a deli and food and drink testing venue. In response to COVID-19, the shop closed down its retail space and launched a click and collect option.
With a commitment to supporting local producers and wanting to help local families and vulnerable people who were struggling to get basic food and essentials, the team partnered up with another local business, Derek Piggott, to offer fruit and veg boxes for delivery. However, the business was still hugely impacted as the store was closed to customers with no options for tasting food and drink.
James Grant, co-owner of the business alongside his wife Nicola, heard about the Buckinghamshire Recovery Investment Fund (BRIF) and applied for a grant to help convert part of the store buildings into a teaching space and cheese workshop.
The application was approved after a straightforward and clear process, funds were received promptly and work began, carried out by local tradespeople.
"We celebrated our successful grant application with a glass of Harrow & Hope English sparkling wine, staying true to our ethos of supporting local producers! The grant enabled us to bring our dream to life of supporting small artisan cheese producers and making Wendover a destination for people who want highquality artisan cheese."
James is one of a few people in the UK who teaches Academy of Cheese courses, part of the road to becoming a "Master of Cheese". Longer term, the teaching room will be used for private tastings of local food and wine or rented out as a space for other local businesses.
"Securing this grant enables an anchor business in Wendover to innovate and grow in line with their ethos. By creating the new teaching space, they will encourage more visitors to the area and create jobs for local residents." - BBF representative
Part of the funding also went towards improving shop facilities, ready for a safe re-opening to maintain its status as a destination deli for the area, which in turn helps bring more trade to Wendover and its independent retail community. Creating the workshop has created two new jobs and will allow the store to age its own cheese. Feeling excited for the future, No2 Pound Street is beginning the next stage of its business growth and is ready to help grow the local artisan food community. With many consumers committed to "shop local" since the start of the pandemic, they are well-placed to meet this need.