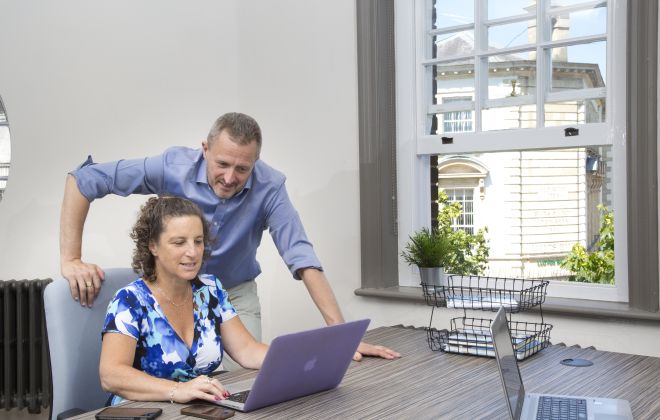 Point of Difference, run by a husband and wife property management team, manifested their ethos of making "a real, positive difference" in Market House – a rustic rentable office space in the heart of Aylesbury that comes with a modern twist. When moving into the space in early 2018, it was clear that the derelict building, which dates from the 1930s, would haemorrhage heat if it was not modernised.
A £5,000 grant from Low Carbon Workspaces allowed them to refurbish and reinstall the original sash windows as part of an initiative that gained more than just energy savings.
'Time for a change'
Andy Bedwell had worked in the corporate world of FTSE 250s for over 15 years when he decided that it was time for a change and a revival of his working philosophy. Reflective of this, Andy's property venture aimed to "bring old, under-utilised buildings to life". Market House was his first commercial property and a £100,000 refurbishment project was undertaken.
"A primary goal was to minimise landfill impact. I loved the aura and feel of the building, so preserving as many original features as possible was the logical strategy," explains Andy. "The grant from Low Carbon Workspaces allowed us to repurpose the original sash windows and maintain the building's rustic aesthetic."
As part of the wider refurbishment project, Andy opted to keep all the original doors and frames and he even shipped all 26 original 1930s radiators to Essex to be refurbished in order to minimise waste. The old-meets-new motif was reinforced by the LED lighting throughout, all with dimmers, motion sensors and spotlighting.
Andy pointed out that "having spent enough time in dull, corporate offices with harsh inefficient lighting, I recognise the importance of a workspace which is aesthetically pleasing and functional yet fundamentally green." Other energy-efficient measures included smart heating controls with period thermostatic radiator valves, ceiling insulation, a waterless urinal and refurbished skylights.
Great savings expected
The environmental upgrades should halve the running costs of the property, saving approximately 2.6 tonnes of CO2e per year. Modelled on the financial and environmental success of Market House, Point of Difference are on the cusp of undertaking their next commercial property refurbishment project on a 1980s building in Banbury. When asked why they chose that particular building, Andy stated that "character, location, natural light…they're the big things for us, and making these aspects of old, under-utilised buildings more sustainable allows both current and future occupants to enjoy them as much as we do."
With their Low Carbon Workspaces grant, Point of Difference have taken a bold step towards the future of commercial property.
Low Carbon Workspaces offers grant funding to businesses to invest in their workplace, reduce their carbon footprint and open opportunities for both financial and environmental growth. Visit www.lowcarbonworkspaces.co.uk or call 01494 927131 for more information.