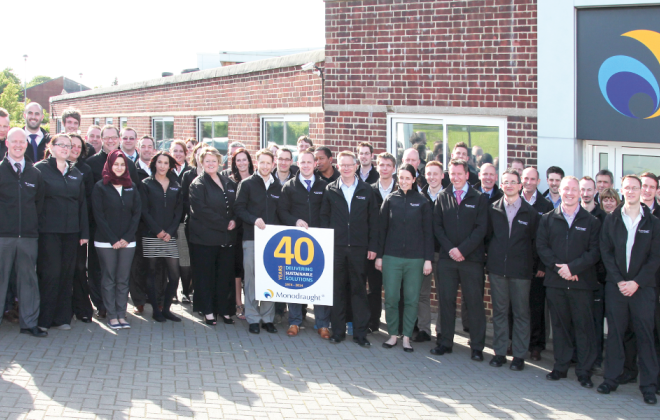 What is it exactly that draws a foreign-owned company to a certain location in which to base their UK headquarters? Danish-owned Monodraught Ltd think they've found the answer after a successful 43 years and counting in High Wycombe, Buckinghamshire.
The county of Buckinghamshire, with its beautiful surroundings and entrepreneurial spirit, has always made businesses feel at home. "Buckinghamshire is a popular place to live, work and bring up a family," says Andrew McCubbin, Managing Director at Monodraught. "There are so many benefits to working in the Buckinghamshire area, including the highly skilled talent pool and excellent transport links."
The people make the business
Monodraught has been at the forefront of designing and manufacturing low energy, low carbon and sustainable solutions for over 40 years, and for over 40 years the people who work for Monodraught have been driving the company on.
Indeed, for any business with growth ambitions the local talent pool is a vital source of employees. Buckinghamshire is blessed with the strongest schools performance of any region in Britain and this is reflected in the local workforce given that 83% of employers reported no skills shortages at all in the 2015 Employer Skills Survey. Every year, 1,500 graduates leave Buckinghamshire's two universities ready to work.
"The majority of our employees are based near High Wycombe and we have always found Buckinghamshire to be a great source of candidates," says Andrew. "We have a multi-national workforce that enjoys living in a place like Buckinghamshire with its Area of Outstanding Natural Beauty, while still being in close proximity to London. This is one reason why we have such a high level of staff loyalty at Monodraught, with a third of our workforce having worked for us for more than 10 years."
Proximity to Heathrow opens a world of possibilities
A 45 minute drive to Heathrow Airport is the dream of any business with exporting on their mind, so it's no surprise that Monodraught embrace this geographic perk. It's also a big plus point for their Danish owners who are more able to visit their UK operations as a result.
"Our core customer base is in the UK," Andrew explains, "but we find it very beneficial to be close to Heathrow in order to help us with our strength in exporting and the ability to grow the business. Monodraught is focused on three product groups in which we are recognised as market leaders: natural and hybrid lighting, natural cooling and natural and hybrid ventilation. We want to export these solutions to our partners around the world and Heathrow being on our doorstep helps us no end."
The business of Buckinghamshire
While Monodraught embrace the opportunities that exporting can bring, they also embody why the best businesses want to be surrounded by other successful businesses. It's an indication of the strength of the Buckinghamshire business community that more than half of Monodraught's suppliers come from the Buckinghamshire area.
In order for this kind of supportive, successful business community to flourish, many factors come into play, as Andrew expands upon. "There is a low rate of crime, vandalism and burglary in the area where we are situated. This has benefits in terms of maintaining insurance premiums, ensuring our employees have peace of mind, and making sure productivity remains high with no hours lost for costly repairs. Things like these make a big difference to the performance of employees, and therefore the business, so it's another big plus for Buckinghamshire."
Monodraught's 40-plus year journey is only just getting started and they are showing no signs of slowing down having been named Company of the Year at the 2016 Buckinghamshire Business Awards.
The Buckinghamshire community
Buckinghamshire has made businesses feel at home for years, an indication of why roughly 700 foreign companies choose to have their European headquarters in the county.
The characteristics of Buckinghamshire are such that doing business here feels like it's meant to be.