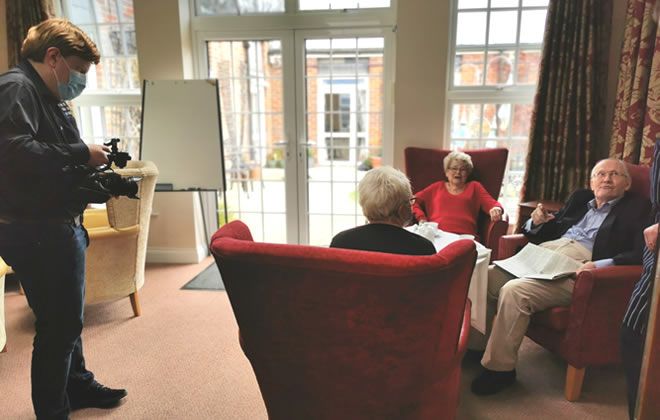 Five on a Bike is a video production company based in Prestwood, Buckinghamshire. Prior to the pandemic, they were a busy team creating videos for a range of clients from large corporates to small businesses. As the pandemic hit, business fell away to virtually nothing.
Fortunately, furlough was launched to protect jobs and business activity was scaled back for a few months. As lockdown started to ease, the team started back part-time. When an existing client in the care sector approached the team about filming 48 sites to help potential residents see what the facilities were like, an idea was sown. From this request, Five on a Bike could see the potential of this market and made the strategic decision to specialise in video production for the care sector.
By September 2020, with a re-designed website and branding, the business was clearly niched to be 100% focused on the care sector. The team realise the value they bring to clients in this sector, particularly when face-to-face visits are not possible. During the pandemic, care homes were unable to accept visitors and were also struggling to find new clients. Video became essential to help families communicate, and for sales and marketing.
By using video to capture the essence of a home, the team bring the facility and type of care offered to life. With over 13,000 care homes in the UK and as the only specialist video production company in the sector, Five on a Bike is ideally placed to serve this base.
"We were staring into the abyss at the beginning of the pandemic, now 12 months later we have transformed our business, diversified into one niche and are growing. The support from BBF with the Restart Grant and Peer Network programme has added depth to that transformation and enabled us to be innovative in our marketing campaigns."
After learning about the Restart Grant from Buckinghamshire Business First, they applied for funds to create a direct marketing campaign to raise awareness of their specialist service. In all, 75 prospects and influencers received a package which included tea, chocolate, a lego carer and a flyer introducing the business. At a time of great reliance on digital communications, this innovative 'hard mail' approach had a really positive response. The business achieved a deeper dialogue with existing prospects and great brand awareness.
"Five on a Bike are an inspiring example of a business that have re-focused their service offering in response to the pandemic. Using the re-start grant for their innovative marketing campaign reduced the risk to them and allowed them to increase brand awareness in a new market" - Ngage representative
The business is now stronger than it was prepandemic, with a clear service offering ready to support more care homes, and is doubling its team to eight members of staff.
Restart Grants now available
Restart Grants are now available via Buckinghamshire Council for:
Eligible businesses in the hospitality, leisure, accommodation, gym and sports, and personal care sectors (grants available between £8,000 - £18,000)
Eligible non-essential retail premises businesses (grants available between £2,667 - £6,000)
Full details, including the eligibility criteria, are available on the council's Restart Grants page.