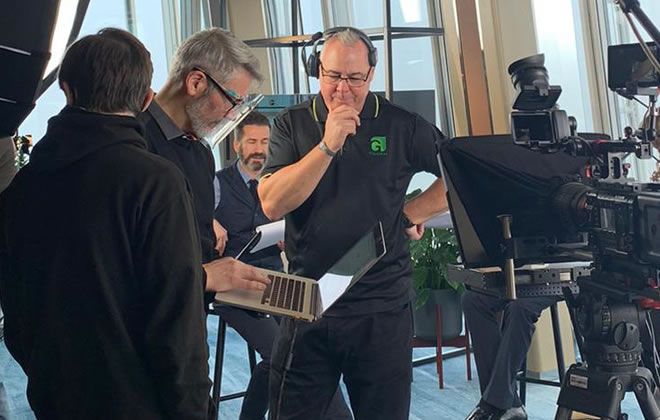 An Aylesbury-based video and online events production company is expanding its offering thanks to a £205,000 investment.
Giggabox Ltd approached Buckinghamshire Business First (BBF) for support in navigating the funding landscape, and the BBF Growth Team got to work clarifying the support available and helping to ensuring Giggabox received the investment it required.
Giggabox received the funding from First Enterprise – Enterprise Loans, through the Community Investment Enterprise Facility (CIEF) and Midlands Engine Investment Fund (MEIF), backed by the Coronavirus Business Interruption Loan Scheme (CBILS).
The company, whose client portfolio includes the Ascot and Goodwood festivals, is diversifying and expanding to provide more virtual and hybrid events after seeing opportunities in the online event industry.
The funding will be used to purchase additional remote digital production equipment and hire seven new employees to meet the demand for live online conferences, product launches and events.
Paul Musselle, Founder and Director of Giggabox Ltd, said, "When the pandemic hit, we moved quickly and used our broadcast and livestreaming experience to deliver remotely-produced events that have been exceptionally well received. Delivering live content requires a host of technical and production skills, and it made complete sense to make use of our Giggabox skill-set and scale up for the increased demand we have experienced for virtual and, more recently, hybrid events.
"The funding from First Enterprise – Enterprise Loans has been paramount in making this happen. Without it, I wouldn't have been able to purchase the additional equipment and employ the new members of staff needed to fulfil contracts."
Buckinghamshire Business First's Growth Team commented, "The business support and funding landscape can be complex at times, so it is heartening to see that a business knows where to turn for support when clarification is required. We were delighted to help navigate Giggabox towards such a significant investment."
Stefan Nycz, Business Adviser at First Enterprise – Enterprise Loans, commented, "Paul has a wealth of knowledge and expertise in broadcasting, and it's been a delight helping him expand Giggabox. I'm looking forward to seeing the company power the British Chambers of Commerce's flagship Global Annual Conference in June and many other sporting and corporate events throughout the year."