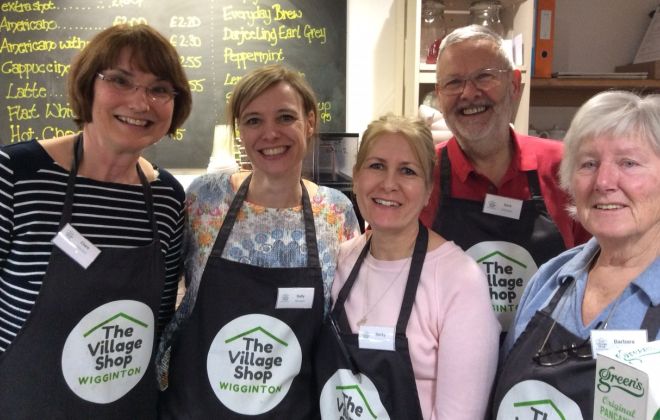 The last shop in Wigginton village in the Chiltern Hills shut its doors more than a decade ago. A small group of passionate residents agreed that the community needed and would benefit from a new shop and café selling local produce to local people, and providing a new community hub.
Locals wholeheartedly agreed. Over time, some 80-100 Wigginton residents mobilised and joined the working party set up to launch the shop. A range of local professionals invested their time for free. The community held fundraising events and opened a community share scheme.
A LEADER Programme grant of £13,530 helped to fund the construction of the new specially designed building by a local builder, and other grants then contributed to kitting out the kitchen and café.
The Wigginton Village Shop opened its doors to the community on 1st December 2018. The shop and café were an instant hit and as well as attracting a base of regular local customers, the business has also started to become a destination for outdoor enthusiasts such as cyclists, walkers and horse riders.
Economic boost to the local area
The economic boost to the local community is also significant. Turnover has exceeded expectations at £20,000-£30,000 per month, with the café's performance stronger than anticipated.
Over 90 volunteers have signed up to work in the shop, while the business has also hired a full-time manager and two part-time supervisors and offered paid summer work experience for six local school-leavers. Another key success has been that the shop and café have been able to source 70% of their stock from within a 30-mile radius. Small local, independent and start-up producers now have a shop window for their wares and an opportunity to expand their businesses.
Investing in local projects
As a business run by the community, for the benefit of the community, one of the other objectives has been to invest any profits into other local projects. A donation was made to a facelift of the neighbouring children's playground in spring 2019. In turn, this has helped to drive more visitors to the shop's café and has helped attract more visitors to other local amenities such as the neighbouring sports ground.
The business has also started to host community events such as a mental health awareness event for local parents in partnership with a local mental health and suicide prevention charity, and 'cake and coffee' afternoons for older residents.
Having established the Wigginton Village Shop, the local community has realised the power of coming together to boost the local economy and create sustainable change. Looking ahead, this dynamic village is now investigating how it can reduce its environmental impact via a community renewable energy scheme, possibly installing solar panels on the roof of the shop, and employing plastic-free initiatives.
The LEADER Programme helps rural businesses create jobs and support the rural economy. Find out more.