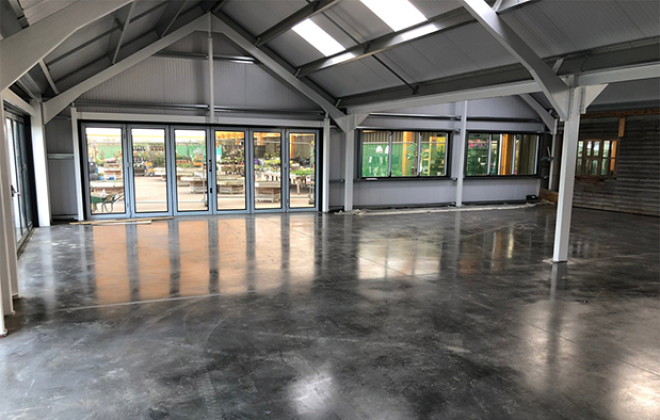 Haddenham Garden Centre has undertaken a long-awaited expansion thanks to a grant from the LEADER Programme. The centre's coffee shop and farm shop will be expanded in a project that will create 17 jobs over three years and ensure the centre meets local demand for quality local food.
The family-owned Haddenham Garden Centre began trading in 1978, with the coffee shop opening in 2007. It was hoped that further developments would begin within two years of this, but due to the financial climate and a focus on running the existing business, this had to be delayed considerably. Now, with the help of a near £180,000 LEADER grant, the developments can be implemented.
Diversifying to support the local community
Ben Hawkins, Director of Haddenham Garden Centre, takes up the story: "We are a small business wanting to grow and diversify our offering to the local area. Expanding our coffee shop and farm shop will help us meet local demand, create higher quality amenities for the local area with an emphasis on quality local food, and in turn create many jobs for the rapidly growing local rural population."
When the work is complete, the coffee shop will be housed in a new building with a larger seating area and kitchen, while the farm shop will benefit from new fixtures in order to provide a much bigger range of local produce. The garden centre will also have a brand new frontage and entrance that will vastly improve the appearance of the site from the road.
Ben knew there was scope for expansion after the results of a customer survey revealed that nearly one third of customers had been turned away from the coffee shop on one or more occasions as all of the seats were taken.
"Visiting garden centres is now widely considered a leisure and tourism activity," says Ben. "Our expansion will increase the number of visitors to the local area, therefore benefiting the other local attractions and businesses close to us.
"There are many local food and drink suppliers that will directly benefit from this project too, as we continue to source products from local suppliers."
Protecting future jobs and business growth
The project is scheduled for completion in time for spring 2019, with the 17 new jobs spread across the business, with eight in the farm shop, seven in the coffee shop, and two in the main garden centre itself. Ben explains that these jobs were dependent on the LEADER funding: "Without the LEADER funding, we simply wouldn't be able to complete this project. The grant allows us to complete the entire project within one year and safeguard these future jobs and business growth."
For more information on available grant funding, contact our business support team: 01494 927130 / BusinessSupport@bbf.uk.com.
The LEADER Programme is funded the European Agricultural Fund for Rural Development.