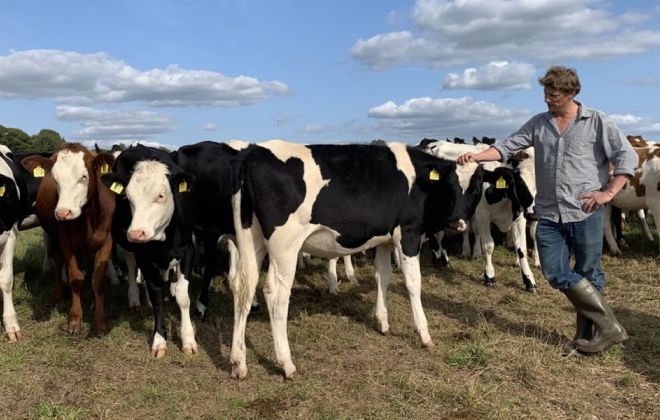 Award-winning, Chilterns-based artisan cheesemakers Nettlebed Creamery increased productivity and employed 30 members of staff by developing and implementing two new projects funded by LEADER programme grants.
History
Nettlebed Creamery was launched in 2015 by Rose Grimond, using her family's organically farmed milk. By 2017, Rose and her two employees were making, on average, 300 litres weekly. With this, they produced their Bix cheese, which won the "Best Soft White Cheese" category at the British Cheese Awards 2018.
In 2018, Nettlebed Creamery created their second cheese, Highmoor, named after the nearby pasture the cows graze in.
New equipment needed to keep pace with growth plans
The creamery needed to purchase a new cheese vat to support their forecasted growth and looked to the LEADER Programme for grant funding.
Awarded a grant of nearly £10,000, they purchased a 2,000-litre vat what allows them to not only be more efficient and productive, but also have a better impact on the environment.
The outcomes are impressive. Production growth of 500%, an increase from 300 litres of milk being processed a week, to at least 2,000 litres being processed in one day.
During their busiest period, they can now process 10,000 litres a week!
Development of a new cheese product
As a result of this increased productivity, the creamery decided to create a third type of cheese, Witheridge, and in doing so, became the first UK cheesemaker to create a cheese aged in hay.
The cheese would take home a Great Taste Award in 2019.
This also saw the creamery move into the pre-packaged retail market, which has seen their products featured in Waitrose and Ocado Life's the 'Perfect Cheeseboard' feature.
The Cheese Shed
This is not the only growth this small independent business has seen. As a result of the vat and their subsequent success, the creamery embarked on a second LEADER-funded project.
Due to the Covid pandemic, the business had a need to develop new markets for its products, and saw an increase in direct sales to the public from the farm gate.
With this, and with a £13,500 LEADER grant awarded, the Cheese Shed was born.
The team converted a redundant Dutch barn into an outdoor covered café area and retail space, enabling the business to develop further products and add value to the farm's organic milk.
With increasing demand, the Cheese Shed has become a tourism destination in its own right. It is open 7 days a week and employs over 30 individuals from the local area.
Local suppliers benefit from Nettlebed Creamery growth
Along with the award-winning cheeses, the creamery also produces milk, cream, butter, kefir and ice cream. Through the Cheese Shed, the business can retail hot and cold drinks and snacks, utilising not only produce from within the business but many other local suppliers as well.
Products thoughtfully sourced include a selection of breads, eggs, honey, pickles, kimchi, crackers, charcuterie, sauces, pasta, chocolate, tea, coffee, and lots more.