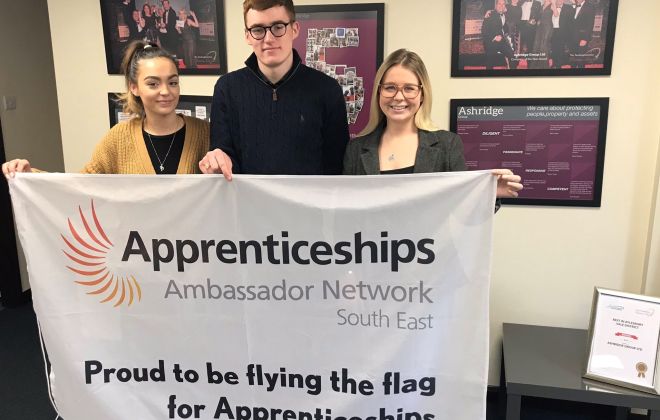 An award-winning security services provider overcame the initial daunting aspects to hiring apprentices and now have two loyal full-time team members who surpassed expectations in every way.
Aylesbury-based Ashridge Group was in need of more office support to meet the needs of its expansion. Running a small business, Group Chairman Mark Walker and Group Managing Director Emma Walker were conscious of the time and training that younger recruits may need compared to more experienced people, but any concerns were quickly washed away as they realised the capabilities of their new team members.
Over the course of a year, they took on Isaac Richmond as an Accounting Apprentice and Shanice Nabi as a Business Administration Apprentice, with both impressing so much that they were offered full-time roles in the company at the end of their apprenticeships.
A beneficial journey for everyone involved
"It's important to get your whole team involved in the idea of hiring apprentices," says Emma, "because it can seem daunting at first for everyone: employers, staff and the apprentice themselves. It's a journey for everyone, but by encouraging your whole team to support the apprentice and by explaining the benefits for all parties, it can quickly be shown to be a positive one that aids business growth. We worked with Milton Keynes College (MK College) to recruit two students; the recruitment and interview process was really good."
First came Isaac, who was taking Financial Studies and Business at A-level and began a Level 3 AAT Accounting Apprenticeship to combine earning and learning, preferring to put theory into practice through this dual approach. "Once Isaac joined us, he benefited from on-the-job training, and as our accounts team grew, so did he," says Mark. "Our Accounts Manager mentored and guided him, providing him with first-hand knowledge that he was then able to apply practically."
Isaac now heads up the entire payroll department and manages the process for purchasing new software, something that is symbolic of the benefits to hiring young people, as Mark explains. "As one of our youngest team members, Isaac brings with him a completely different set of skills compared to those of other ages, with his enthusiasm and knowledge of all things technology and software-related really shining through. Has he surpassed our expectations? From a timid beginning and his original Accounts Assistant role to heading up our entire payroll department and managing software purchases – yes, he has definitely surpassed expectations!"
Enthusiastic apprentices who enjoy learning
Not long after Isaac joined Ashridge, Shanice began her Business Administration apprenticeship with the company. Described as "quiet" at first by Mark, Shanice took over a multi-purpose role covering all kinds of aspects within the business, from HR to social media.
Impressing the whole Ashridge Group team so much, Shanice became a full-time member of staff and is enjoying working for a company that is dedicated to supporting its people: "Since starting with Ashridge Group, I have been enthusiastic about coming to work every day. I enjoy being part of such an incredible team who are willing to guide and support me in completing tasks to a high standard. Assisting the Human Resources department has deepened my experience of the business and I have really enjoyed learning and developing in my role. I particularly liked the idea of working for a company that has won Company of the Year (at the Buckinghamshire Business Awards)."
Young people can bring a fresh dynamic to a business, as Mark explains. "People from older generations may have a particular way of doing things, so it's good to see how the younger generation tackle the same challenges. Their fresh thinking can help us sell our services in new ways and attract more younger people to work with us. It can also be educational for business owners, certainly in terms of incorporating new software into the business."
The cost analysis
With Isaac and Shanice now firmly embedded in the team, Mark and Emma undertook a full cost analysis of hiring the two as apprentices compared to if they had hired full-time employees from the outset instead. The combined salary saving was £44,000, and this figure will only increase over time, as having happy and loyal employees who value what the company has done for them will reduce the need to recruit and train new people for the roles.
Their message to employers contemplating bringing apprentices into their team is this: "Find the right educational partner to help guide you. Working with MK College was a great experience, the team supported us right the way through, and supported the students while they carried out their studies alongside working for us."
Ensuring the next generation can lead us
For Mark and Emma, the societal benefits to hiring apprentices are more and more pertinent given the upheaval of the pandemic. "This is about how we build back better by upskilling young people to ensure the next generation is able to lead us through the challenges of the future. The fact that apprenticeships have also proven to be great value for money is proof that they can work well for small businesses."
A positive experience across Ashridge Group
Ashridge Group HR Manager Nancy Oliver is a big advocate of apprenticeships and played a pivotal role in Isaac and Shanice's appointments. "I am a true believer that apprenticeships provide fantastic experience of the working world and allow those interested to hit the ground running, with a chance to gain the skills and knowledge required to succeed. Since working with both Isaac and Shanice, I have noticed a fantastic change in both their ways of working. They have a positive influence on the team and I am really excited to see what the future has to bring for both of them. I would like to thank them both for their hard work and enthusiasm, but to also wish them the best of luck as they continue on an exciting journey with us."
Reflecting on his apprenticeship, Isaac, who is now studying for a payroll-related NVQ level 4 qualification, had this to say: "You become a valued member of the team and you develop skills - such as accountability, resilience and time-management - that are desirable to employers. You gain an industry-recognised qualification as well as earning a salary and I would therefore say to anyone wishing to study in an apprenticeship, take your time researching for one. Whatever route you choose, make sure it is the best route for yourself personally, do not be afraid if your friends take a different path. Try to weigh up the positives and negatives, choose what you believe to be more suited to your skills and your personality, choose what is best for your personal development."
Want to learn more about hiring an apprentice?
Contact our Business Support Team to get more information. Call 01494 927130 or email: BusinessSupport@bbf.uk.com