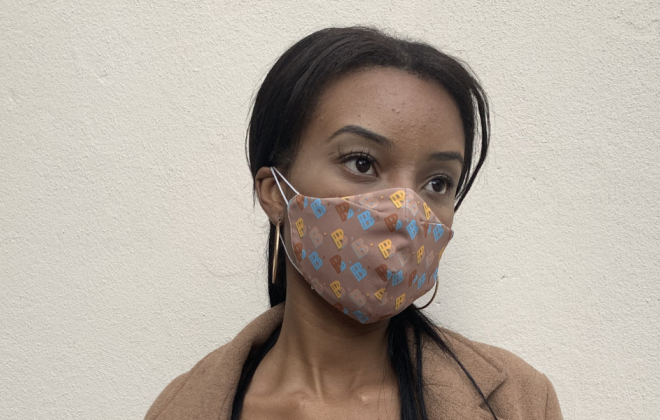 Bluebell Label is a new fashion concept start-up enterprise conceived by Founder, CEO and Creative Director Joy Lorck-Schierning and co-founder and CFO Felix Magnus whilst on the BSc in Business Enterprise at the University of Buckingham back in 2018. Their main objective throughout their developmental journey has been to re-define the face mask concept into something more sophisticated and luxurious, as well as being healing for the skin.
Bluebell Label launched on the 10th of October 2020. Who could have known at the point of inception 2 years ago how much more in demand face masks would have become this year? The two founders decided to
delay the launch due to Covid-19 until October as this seemed to be a more appropriate time.
The founders have created a unique design with composition and material that is different to other players in the market such as the way the mask clasps rather than loops behind the ears which the founders have registered design rights over. Their choices in textiles is another key differentiator.
Joy approached Buckinghamshire Business First when they were starting to investigate what sort of Intellectual Property registrations might be required for the new designs and patterns and also how to trademark the new business brand.
As an innovative start-up, they joined the Growth Programme in order to meet and collaborate with other business owners in a form of open discussion online during the mastermind classes.
"We were delighted to be able to support Bluebell Label at the start of their business journey. We helped them harness their innovation with an Intellectual Property review and provided them with a safe space to network and learn from other entrepreneurs"
One of the major benefits of being part of the Growth Programme is the opportunity to join a Peer to Peer Mastermind, working with other experienced business owners to share challenges that they were facing to give them support and feedback on strategies to try, based on their own experiences.
Through participating in the Growth Programme, business founders Joy & Felix have been able to utilise the tools provided to protect their designs and brand and allow them to confidently launch their business.
The peer networking opportunities were invaluable, allowing them to learn from other entrepreneurs and test ideas.