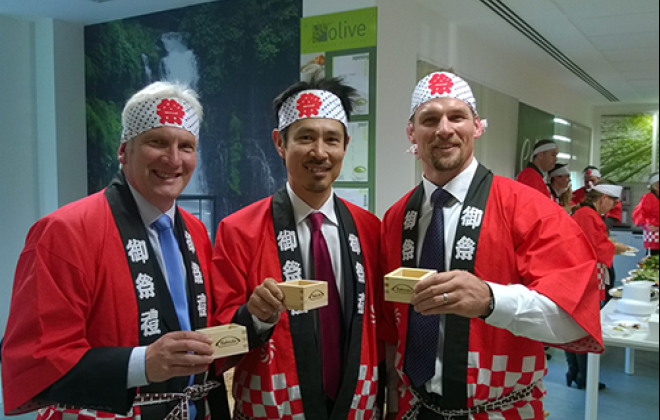 Takeda's broadening portfolio and strong UK growth meant it was in need of new headquarters befitting its status – and Buckinghamshire delivered the solution.
In 2014, support from Buckinghamshire Business First (BBF) and its partners enabled Takeda UK to move into new, larger premises in Wooburn Green, a move the company hopes will provide an inspiring and motivating environment from which to grow even further.
Takeda is the largest pharmaceutical company in Japan, with an international commercial presence in more than 70 countries. When Takeda's UK subsidiary opened its new headquarters in Buckinghamshire, it did so doubtless influenced by the county's central and strategic location and the talent of its working population, third in the country, as it is, for its share of the working population with the equivalent of a degree level qualification or above.
At the official opening attended by representatives of BBF, UK Trade & Investment (UKTI) and Thames Valley Chamber of Commerce (TVCC), Yasuhiro Fukutomi, Takeda UK Managing Director said, "The move reflects Takeda's commitment to build on our successful business within the UK. I am quite sure that our new premises will be conducive to enhanced collaboration, agility and innovation at the highest level within the organisation."
BBF works in partnership with UKTI and TVCC to support businesses who are looking to locate to Buckinghamshire. In 2014/15, 39 foreign and domestic businesses located to Buckinghamshire, creating 1,082 jobs. Philippa Batting, Managing Director of BBF commented: " We were delighted to help Takeda relocate to Buckinghamshire, initially supporting their exploratory visits with free use of office space at our Hub in Saunderton, and to support them at the opening of the new premises themselves. In addition, we were happy to help showcase the company and raise their profile to the business community and the wider public."
Whether it is the location, with its proximity to London and five airports within a 90 minutes drive, or the quality of life afforded to residents thanks to the natural surroundings and nationally-renowned schools, Buckinghamshire has a pull that brings business in.