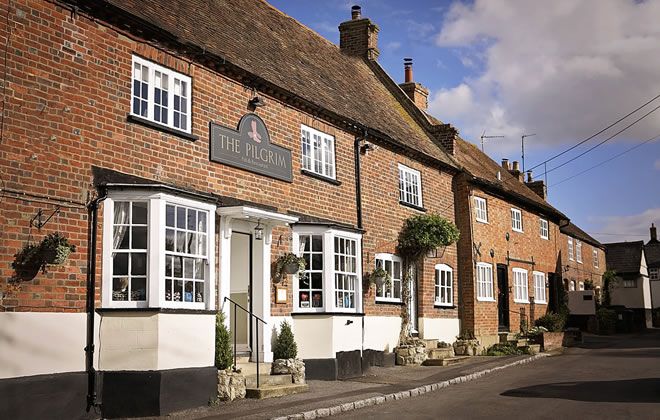 When The Pilgrim was forced to close down its popular village pub in March 2020, no one could have known how long the pandemic would last.
In response, the business started offering a takeaway service for local residents from Thursday-Sunday. They soon discovered that people are creatures of habit. The busiest night by far was a Friday and it didn't make financial sense to open on the other evenings.
Wanting to offer customers a taste of the Pilgrim experience on other evenings whilst controlling costs, they came up with the idea of selling trademark Pilgrim sauces for the flavours that people were telling staff they were missing. This was the perfect opportunity to extend the enjoyment of the pub food menu beyond a Friday night takeaway, without the need for physical interaction.
Landlord Brett Newman discovered the Restart Grants via the Buckinghamshire Council website after hearing about government support available to the hospitality industry. He successfully applied for a grant via Buckinghamshire Business First and found help easily on hand when doing so.
"What we have learnt in the last 12 months is that we need to change and be flexible in response to the pandemic," said Brett. "We will continue to innovate and diversify to protect the business, whilst maintaining the community spirit of The Pilgrim."
The grant was used to purchase a vacuum packing machine, which meant that the shelf-life of the ready-made sauces could be extended to seven days. Customers were able to buy a pack when picking up a takeaway. The Pilgrim partnered with a local business to offer artisan coffee and bacon butties for locals to enjoy with their daily walks, providing a further opportunity for customers to pick up a ready-made sauce.
"The Restart Grant helped The Pilgrim to continue trading at an extremely challenging time for the whole industry. By diversifying and creating a completely new revenue stream, they have come up with a creative way of serving the local community from a distance." - Ngage representative
Managing to successfully trade within the government guidelines throughout the year has protected jobs and provided a community hub for village residents. Many locals want to support small businesses, so by purchasing the readymade sauces, customers can enjoy the comfort of a familiar taste and also know that they are helping The Pilgrim to continue to trade.
The Pilgrim will continue to offer the sauces both directly via the pub when it opens again and also in the local community shop. With continued uncertainty ahead, by investing in this new revenue stream, the business is hoping to reduce the financial risk should they need to close again for any length of time.