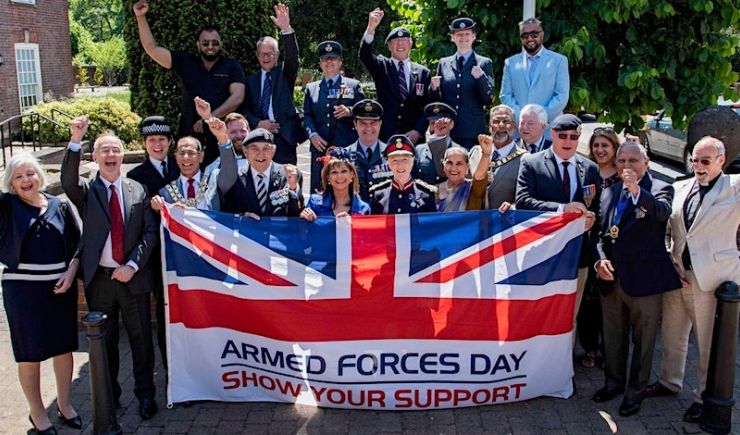 Are you a Buckinghamshire-based employer looking to enhance the skills and experience within your workforce, increase your reach in the community, or expand your customer base?
On Monday 12 June, employers from across Buckinghamshire are invited to drop into Buckinghamshire Council's Armed Forces Conference between 2 and 6pm to learn more about the benefits of being a Forces Friendly employer.
Buckinghamshire has a rich military history and strong links to the armed forces community, with two major RAF bases as well as reserve units and cadet groups. There are more than 15,000 veterans living in Buckinghamshire and over 3,500 serving personnel, many with their partners and family members.
Members of the armed forces community can bring real value to businesses and organisations, both as employees who have a wealth of transferable skills and experience, and as customers.
This event has been designed for employers of all sizes to learn how they can benefit from recruiting ex-service personnel or reservists and making products and services "Forces Friendly".
Throughout the event, guests can hear from a range of speakers, including:
Other Buckinghamshire employers
Ex-service personnel
Military families
Reservists
There will be opportunities throughout the afternoon to network with other businesses and organisations and talk to a range of exhibitors including employers, reserve and cadet units, serving personnel, military charities and support organisations.
If your organisation is interested in signing the Armed Forces Covenant, or you'd like to find out more about the Defence Employer Recognition Scheme, support will be on hand during the afternoon to guide you through the process.
Refreshments will be provided, and free parking is available outside the venue.
If you have any questions about the event, please contact armedforces@buckinghamshire.gov.uk.
Book your place
Scroll down to the 'Book now' area below to reserve your place.
---
Details
Date:
12 June, 2023 - 12 June, 2023
Location:
The Gateway, Gatehouse Road, Aylesbury, HP19 8FF
---