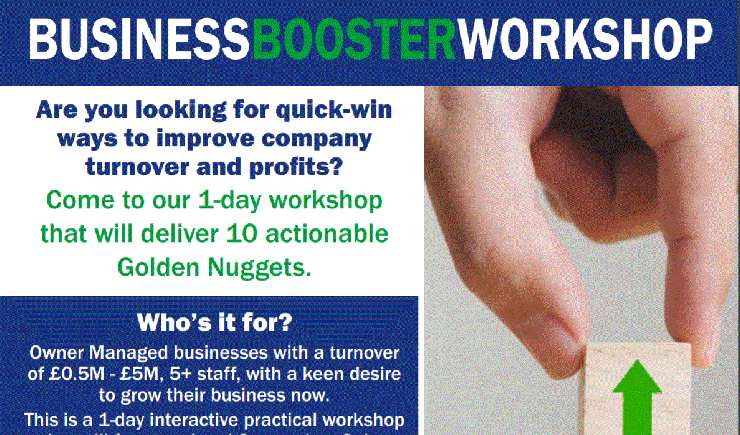 About this Event
It's for people like you: Owner Managed businesses who want more leads, more sales, and more time to do the important things.
Your business will have a turnover of between £0.5M and £5M, with 5 or more staff, and you will have a keen desire to grow the business now.
What does it comprise?
This is a 1-day interactive practical workshop that will focus on Lead Generation, Sales Effectiveness and Business Improvements that you can take away and use the following day. 
A buffet lunch, refreshments & workbooks will be provided.
Lead Generation 
1. Find your potential customers – Determine where to go fishing!
• Online – e.g. Google/Facebook/Linkedin etc. 
• Offline – e.g. Word of Mouth, Customer Referrals, Physical Media. 
2. How do you get more of them? – Buy more? Convert more? 
• Spend more? 
• Improve the bait and process? 
3. Not all want to buy now – Nurture them. – Marketing Automation. 
• For long enquiry-to-purchase times maintain contact. 
• Consider using Marketing Automation. 
Measure each channel to maximise Lead Generation efficiency & minimise Cost per Lead.
Improve Your Sales Effectiveness
1. Create an Effective Sales Process
• Most businesses do not have a Sales Process that maximises the sales effort and maximises sales 
2. Effective Qualification is Vital 
• Ensuring you are focusing on the right opportunities or accounts 
Increase your win rate – increase your revenues 
3. Improve Your Key Selling Skills 
• Understanding and Developing some of the key selling skills 
Be more effective in front of customers, improve these 3 areas and you could see sales increase by over 50%
Work less hard and achieve more
1. Set your Goals with a 3 or 5yr plan
• Many owners are perpetually busy and don't have time to create and implement a strategic plan 
2. Double the motivation and productivity of your staff 
• Successfully delegate even when you know no-one can do it as well as you 
• Get your team asking for work and responsibility without increasing pay 
3. What secrets are your numbers hiding from you? 
• Your Accounts are brimming with useful intelligence. Learn how to see the picture being painted, if only it was visible to you.
Benefits of attending:
Each specialist presenter will be highlighting 3 actions you can take for Business Growth, Lead Generation and Sales Improvement. Each will be focused on the end goal of increasing profitability from tomorrow.
In addition, there will be a revenue boosting bonus action. 
Who are the presenters?
Graham Perkins
https://www.linkedin.com/in/graham-perkins/
https://www.gainlinesales.co.uk/
 Andrew Merrifield
https://www.linkedin.com/in/andrew-merrifield-ajm/
 http://www.getsalesleads.co.uk/
Charles McClelland
https://www.linkedin.com/in/charlie-mcclelland-12213a/
https://asgf.co.uk/
EARLY BIRD TICKETS AVAILABLE UNTIL 30TH SEPTEMBER
---
Details
Date:
7 November, 2019 - 7 November, 2019
Time:
9:00am - 4:30pm
Registration from 09.00 am
Location:
Missenden Abbey Conference Centre, London Road , Great Missenden, BUCKS, HP16 0BD
---
Book now
Tickets for this event are no longer available.